30 BEST GRAVEL BIKES OF 2021
If your heart is set on adventure, one of these bikes is sure to please
Yes, we know, given that the title of this site – Road Bike Action – and the magazine  from which it is based might leave some you wondering why we would be presenting this multi-model gravel bike buying guide? Well, equally a given is that in this year of 2021 the gravel segment has exploded in popularity and has led the way in industry sales for drop bar bikes.
So in short, notwithstanding the narrower-vision of some cycling enthusiasts, in terms of popularity, and technical innovation, gravel bikes are now a quantifiable member of the "road bike" family.  What we have here is a collection of some of the most reputable gravel bike entries on the market today. Be they steel. aluminum, carbon, or even electric assist, there is no shortage of options to choose for your next big dual-sport adventure.
BASSO PALTA
The concept of building a gravel bike for this legacy Italian brand pitted the (modernist) son versus his (traditionalist) father, and in the end, the Italian-made bike became a best seller.
BIANCHI ARCADEX
Bianchi has introduced two versions of a brand-new gravel bike platform that starts at $3400, and both run with Shimano GRX 1x drivetrains. There's tire clearance for up to a 42mm tire, and there are five
sizes available.
BLUE COMPETITION CYCLES BLUE HOGBACK Di2 LTD 
Blue Competition Cycles has two versions of the Hogback—this standard model and the Hogback Race, which is an aero-optimized frame. A Hogback frame starts at $1995, but by utilizing Blue's "Build Your Own" program, you can build the bike of your dreams. Five sizes available that fit up to 42mm tires.
BMC URS 01 ONE
Starting off at $2999, BMC's family of gravel bikes also includes the cream-of-the-crop 01 that specs a 12-speed SRAM AXS Red drivetrain, Enve wheels and their own rear suspension design. The integrated frame protectors are a nice touch.
CANNONDALE TOPSTONE
You'll find a wide range of price points in Cannondale's gravel catalog that includes three models, which feature their own one-sided Lefty suspension fork with 30mm of travel. But, there's also the entry-level Topstone One, which is available in five sizes with a Shimano GRX drivetrain.
Price: $2150
CANYON GRAIL AL 7
The consumer-direct giant, Canyon, has a full crop of gravel bikes, with the new Grail AL7 starting the line off. The aluminum frame uses a standard handlebar and stem, and the price is spot-on with carbon DT Swiss wheels and a Shimano GRX drivetrain.
CANYON GRIZL
Canyon's latest dual-purpose bike strikes at the desires of any cyclist looking for a truly value oriented adventure bike.  The four models of the carbon gravel bike range in price from $1999 to $4999. The eye-catching hi-end model with the Grape Explosion finish runs on a Shimano 2x drivetrain.
CERVELO ASPERO 5
For 2021, Cervelo is rolling out some beautifully finished gravel bikes under the Aspero banner. Three models and a frameset in six sizes are available with your choice of electronic drivetrains from SRAM or Shimano.
FELT BREED 20
As opposed to their Broam touring bike, the aluminum Breed 20 is more gravel-specific with a SRAM Force 1x drivetrain and a faster-paced geometry. There's clearance for either 700c or 650b wheels and up to 45mm or 2.0-inch tires. The entry-level Breed 30 sells for $2199.
MARIN GESTALT X10
The alloy Gestalt X has room for either 700×45 or 650Bx47 tires and adds a SRAM 1x drivetrain with dropper post cable routing, as well as a new geometry. Overall, the more adventurous X version is ready to take things further off the beaten path at a great entry-level price.
OBED BOUNDARY
Obed is what happens when one of America's top titanium frame shops decides to try their hand at providing consumer-direct carbon bikes. The Boundary is equipped with mounts for up to three bottle cages, as well as front and rear bags, and is available in five sizes and seven component builds starting at $2600.
KHS GRIT 220
The 220 frame is 6061 double-butted aluminum with an abundance of mounts, which allows the bike to be compatible with racks, fenders and even bike-packing essentials. KHS offers four different builds, ranging from a chromoly frameset at $829 with quick releases to a $2799 carbon bike with front and rear thru-axles.
LOOK 765 GRAVEL RS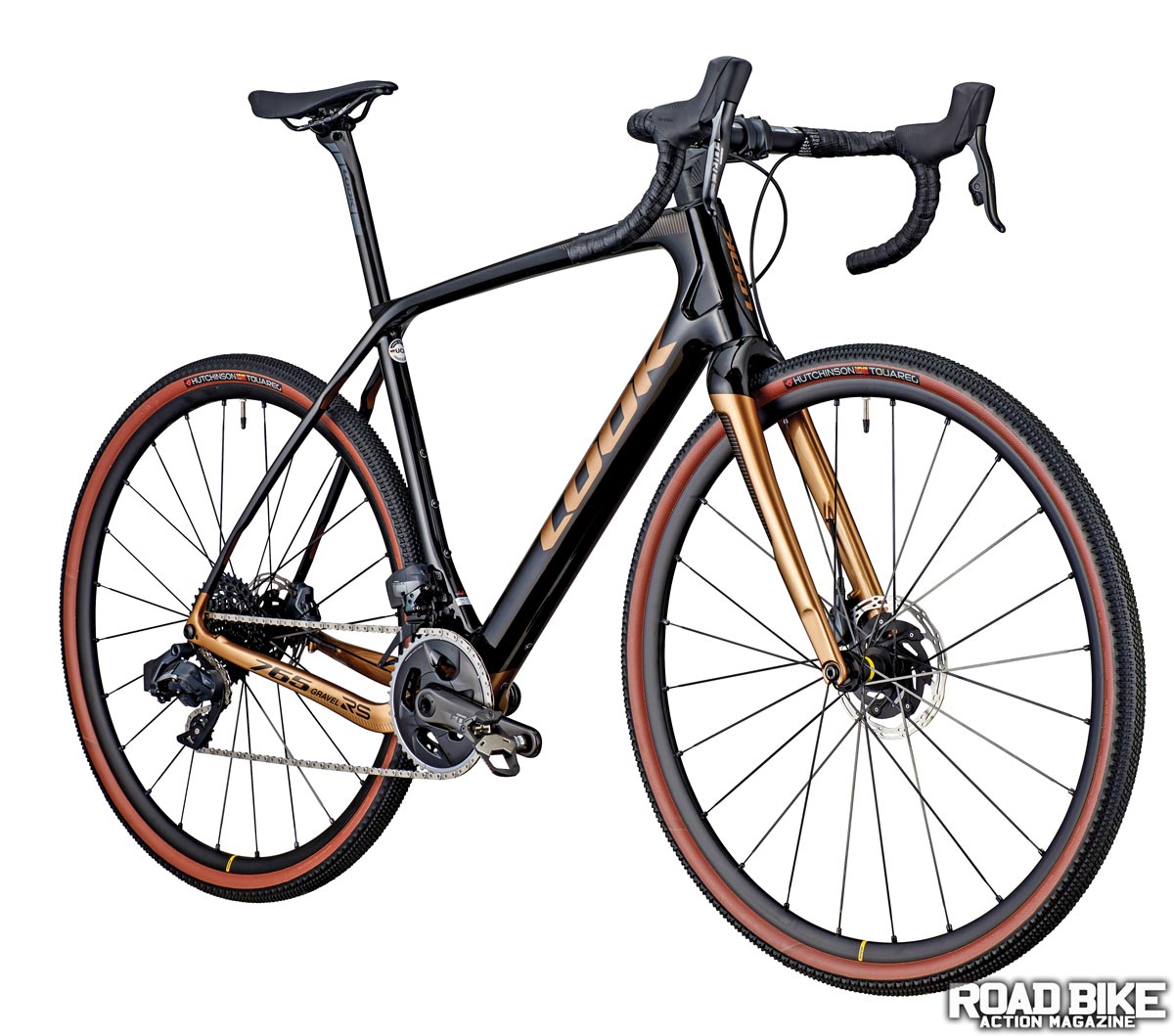 In addition to an e-bike version, the legacy French brand offers three non-assist models starting at $3100. The RS runs with a SRAM Force AXS drivetrain with Hutchinson tires mounted on Mavic wheels.
OPEN WI.DE.
When it comes to unique designs, the Open WI.DE. checks a lot of boxes. Even with room for huge tires, which helps make it a beast on the gravel, the Open's geometry makes for a surprisingly responsive ride on the road. To up the versatility, load it up with bags and head out for some multi-day adventure riding.
ORBEA TERRA H30
The Spanish marque is offering up a nine-model family of gravel bikes that feature a wide choice of colors and both 2x and 1x drivetrains that top out at a $4899 price point. The H30 runs with a Shimano GRX drivetrain and Vittoria Terreno Dry tires mounted on 700c Orbea wheels.
OTSO WAHEELA
First it was their titanium Warakin and now the carbon Waheela that also uses their own tuning chip  at the rear dropout to provide adjustable geometry, with tire clearance for either 700c or 650b wheels. Build your own bike from a huge parts list; frames sell for $2550.
PARLEE CHEBACCO
From famed East Coast designer Bob Parlee comes a family of gravel bikes that start at $3500 and go up to the Limited Edition model (shown) that includes a carbon handlebar, stem, seatpost and a SRAM Force drivetrain. Tire clearance allows up to a 45mm tire.
PURSUIT CYCLES
The Pursuit All-Road is custom-made in Bozeman, Montana, and is available in standard layup and the Extralite layup. The frames include your choice of an Enve or Columbus fork and Chris King headset and bottom bracket.
LAUF TRUE GRIT
Lauf was a breakthrough gravel specific brand (from Iceland of all places) that began their journey with the radical suspension fork that has 30mm of travel. Eventually they decided to build a bike to go with the fork and this the True Grit was born. Prices start at $2790 and the Ultimate build tops out at $6490.
RODEO LABS TRAILDONKEY 3.1
The Traildonkey is the bike that helped launch this Colorado company when it got started in 2014 as a gravel-specific brand. Choose between a frameset or have them build the bike out as you like. Available in six sizes, Rodeo Labs also offers steel and titanium gravel bikes.
SAGE STORM KING
The American-made titanium frame has room for up to 50mm tires and is available in seven stock sizes for $3600, but can also be built-up to include a wide range of drivetrain and component options, including this beautiful example that uses Campagnolo's new 13-speed Ekar gruppo.
SALSA WARBIRD AXS WIDE
Building on their legacy of proven gravel bike technology, Salsa is rolling out a brand-new edition of their Warbird. Now with a Vibration Reduction System in the rear triangle to bring added compliance, the Warbird is also chock-full of cargo and bottle mounts to ensure its
adventure abilities.
SCOTT ADDICT GRAVEL 10
Between price point, color and component specs, Scott's expansive line of 10 gravel bikes should have everyone with an inkling of interest for dirt roads covered. The 10 features a SRAM AXS Force wireless drivetrain and rolls on Syncros wheels.
TURNER TITANIUM
Although Dave Turner is best known  for his suspension mountain  bikes, he has been dabbling with drop bar bikes for years now. Just recently in fact, Dave decided to take a break from producing his carbon full-suspension mountain  bikes in favor or focusing on titanium hardtail mountain bikes and both gravel and all-road  bikes.
VAN DESSEL RANGE ROAMER TI
The 3/2.5 titanium frame is designed to offer a compliant, responsive and stable ride. There is room for up to 700×45 or 27.5×2.25 tires. Available in three build options—starting at $4999 up to $6499 for the Campagnolo Ekar version.
VIELO V+1

The Vielo is the product of a father and son team based in London and both their V-1 Gen 2 gravel bike and R+1 road bike are designed around 1x drivetrains. There are two versions with lots of unique touches, a choice of eye-catching color combos, Shimano, Campy, or SRAM drivetrains and room for up to a 50mm tires (aka tyres).
A GAGGLE OF E-GRAVEL

KONA LIBRE EL
Powered by a Shimano E7000 motor and Shimano GRX drivetrain, the 6061 aluminum Libre rolls on WTB wheels mounted with 650b WTB tires. The crafty Canadians also spec'd a TranzX dropper seatpost that is actuated by the non-shift GRX brake lever.
BULLS DESERT FALCON EVO
If you're thinking about an e-bike but have been unsure about being able to keep up with your roadie friends, you'll be happy to know that the Bulls is powered by a Class 3 Bosch Gen 4 motor, which means it cuts off at 28 mph. With room for up to 46mm tires, riding calls!
3T EXPLORO RACE BOOST


We have to admit, this one surprised us, but we're happy to see one of our top-rated gravel bikes go electric. Based on the Exploro Race chassis, the Boost uses the eBikemotion X-35 rear hub motor for pedal assist, along with Discus 45/40 wheels and a 3T-branded cockpit.
PIVOT VAULT
Melding the proven qualities of their Vault gravel bike, the E-Vault combines a Shimano Di2 GRX drivetrain with a Fazua powerplant that can be adjusted on the fly to three different levels of assist, ranging from 100 to 250 watts.
NINER RLT E9 RDO
This (almost too beautiful to ride) Niner is powered by a Class 3 Bosch Speed motor and Power Tube 500 battery that provides pedal assist up to 28 mph. The Shimano GRX 600 drivetrain and Stan's wheels round out the package. Available in four sizes.