GT has unveiled its all-new endurance road bike, the Grade, at an official launch party in Park City, Utah. The new Grade was also designed as a capable gravel bike.
GT Bicycles, part of the CSG (Cycling Sports Group) company that also includes Cannondale, Mongoose, Schwinn and Sugoi, has unveiled its latest road model. Called the Grade, the new bike is described as a versatile, gravel-ready endurance road bike. 'We've been working on this bike for a little over three years,' says GT Product Manager, Patrick Kay. 'It's designed for a rider who craves an epic adventure on a road bike, who also demands performance, but also wants plenty of versatility. This is a rider who knows no bounds.' Road Bike Action was on-hand at GT's official launch event for the Grade in Park City, Utah, and here's what we learned from both GT's presentations and our very first ride on the latest endurance road bike.
The Grade's carbon fork features rather boxy shaping with an offset design. And the three priciest complete Grade models will feature forks with 15mm thru-axles. Rack and fender mounts throughout the bike provide versatility.

A DEMANDING MARKET
GT has a rather storied history in road cycling, having sponsored or worked with programs as diverse as the Jelly Belly pro team, a former iteration of Lotto-Belisol, and even the US Olympic team. But recent years have seen the brand, in one of its representative's own words, 'Shifted back to the company's roots in BMX and mountain bikes.' Now GT is evolving yet again, and this time the iconic brand is making in-roads into the burgeoning gravel bike market. Enter the Grade. GT's decision to tackle the challenge of creating a performance-oriented yet all-day riding comfortable platform was brought about because of a number of different factors. These include the recent growing demand for 'non-race' road bikes, those that may not necessarily be UCI-legal for road racing but nevertheless sport some advanced technologies geared for a more fun riding experience. By extension, disc brakes continue to grow in popularity, and this was another thing that GT designers wanted to explore. Also, tire companies have been responding to a growing demand for bigger, more comfortable and more versatile tires. So GT wanted to make a bike to embrace this idea of versatility and to explore the notion of extending their customers' rides and with that, enhance their overall experience.
The Grade's rear end features tall chainstays for pedaling efficiency, while the offset rear dropout design helps aid vertical compliance. This demo bike was built with an Ultegra Di2 drivetrain, but none of the stock Grade builds will feature electronic shifting.

A SOLID FOUNDATION
So what does GT bring to the gravel bike party? Well, for starters, the Grade frame will be available in two materials: carbon and aluminum. The carbon version is made from a proprietary blend of high-modulus and other types of carbon that GT calls Variable Modulus Construction. Essentially, the ultra-stiff high-modulus carbon is utilized in areas to make them stiffer and/or more durable, while lower-modulus carbon and even glass fibers are utilized in areas to fine-tune compliance characteristics. 'We wanted to construct the frame similar to a high-performance motorcycle with a very stiff mainframe,' says GT engineer, Andy Schmidt. 'We wanted to give this bike maximum headtube and bottom bracket stiffness.' To accomplish this goal, GT gave the Grade a 'solid foundation,' meaning a 1 1/8- to 1 1/4-inch tapered headtube connected to a wide, oversize downtube, and a PressFit30 bottom bracket to help maintain torsional rigidity at the connection point between said downtube and the bike's tall chainstays. 'From this foundation,' continues Schmidt, 'we can then add more compliant-oriented features. This gave us the best of both worlds, and it's a bike with great handling, pedaling stiffness, and plenty of comfort to keep you in the saddle all day long.'
The Grade's seat tube features a 'bi-directional taper,' a design that's intended to help enhance comfort-oriented flex. A PressFit30 bottom bracket provides the Grade's stout foundation.

COMFORT-ORIENTED FEATURES
Because comfort was a primary focus for GT's engineers when designing the Grade, the bike features incredibly thin seatstays with a subtle amount of bending to dissipate road vibration; and unlike most seatstays on other road bikes, the Grade's are solid pieces of material, meaning that they are not hollow tubes. This is intended to help improve durability. Also in the name of comfort (as well as for the sake of nostalgia and to continue its unique branding), GT engineers opted to incorporate the brand's signature triple-triangle design on the Grade. The triple-triangle design provides several unique advantages to the frame, which includes utilizing a robust seat tube/top tube junction to help stiffen up the front triangle for improving both pedaling stiffness and handling. And with the triple-triangle design, the thin seatstays are positioned outboard of the seat tube, which GT claims helps to enhance rear-end vertical compliance even further. A 27.2mm seatpost standard was chosen to continue the notion of compliance and comfort with its added flex over a 31.6mm seatpost.
The Grade features GT's iconic triple-triangle design, which puts the seatstays outboard of the seat tube and connected to the top tube well ahead of the seat tube. On the smaller frame sizes like the 51cm (top), the triple-triangle design has to be compressed to maintain consistent geometry, while large sizes like the 60cm (bottom) features just the opposite, with the triple-triangle greatly exaggerated.

To help drive home the point that the Grade puts a premium on comfort and all-day riding capabilities, GT's engineer Andy Schmidt said, 'Our testing procedures for the frame included using a fatigue load of 700 pounds with a vertical load positioned over the seat tube. The results of our tests indicated an amount of 10mm of deflection. And with a carbon 27.2mm seatpost, we can say that this amount of deflection is even greater, depending on the specific model of post used.' And while the top tube/seat tube junction is relatively stout, the seat tube thins down towards the bottom bracket in a design that GT calls a 'bi-directional taper.' Designed to aid rear-end deflection, we suspect that this design was inspired by the current Synapse road bike from GT's sister company, Cannondale.
Plenty of clearance on both the fork and frame allow for up to size 35c tires, although we suspect that larger-size frames should be able to accommodate even bigger rubber.
MORE UNIQUE TECH
The three priciest Grade builds come with a full carbon fork, while the remaining four receive a carbon fork with alloy steerers. Those three most expensive builds also receive a front thru-axle in the 100mm x 15 standard in order to help improve handling by increasing front-end stiffness where it counts: right at the wheel hubs. Because the seatstays don't include a connecting bridge that would otherwise provide the mounting point for a caliper rim brake, GT designed a removable bridge that is easily attached with rubber O-rings in order to provide a spot for installing a rear rack or fender. Finally, GT engineers ensured that the Grade can roll with big tires, officially up to size 35c (although we suspect that the larger frame sizes have enough clearance to run up to slightly bigger rubber).
The Grade features a handlebar that GT developed, and its drop sections flare-out very wide with the idea being to add some extra handling stability.

ALL DAY GEOMETRY
GT calls the geometry developed for the Grade 'All Day Geometry.' All of the six frame sizes, from 51cm to 60cm, feature relatively long wheelbases, tall headtubes, slacker angles and lower bottom bracket heights. Because of CSG's acquisition of Guru Cycles, its various brands like GT have been able to create new bike models with data gleaned from the Guru Fit Systems immense database of bike fittings. The most popular size, 56cm, features a 103.1cm wheelbase, 182mm headtube height, and head and seat angles of 71.5 and 73 degrees, respectively.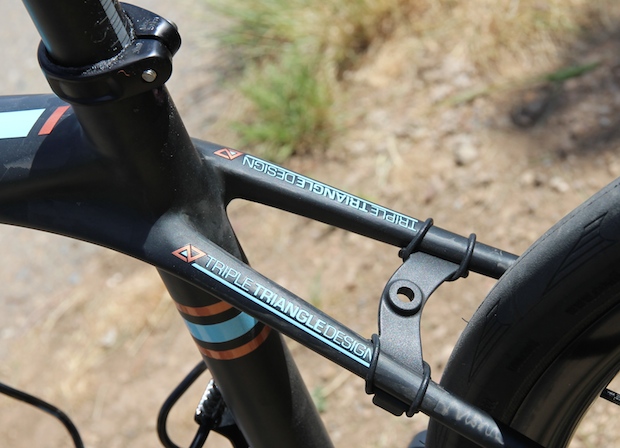 GT opted for a bridgeless seatstay design to improve vertical compliance in the rear-end. But for those looking to install some racks or fenders on their Grade, GT provides a removable mounting bracket that is easily attached with rubber O-rings.
BUILDS FOR EVERYONE
The carbon Grade frame will be available in two complete builds, while the aluminum version will come in five different complete builds. The premier Grade model is the Grade Carbon Ultegra, which will retail for $3299, and it includes a full carbon fork and Shimano Ultegra mechanical drivetrain with Shimano's new R685 levers, meaning this build comes with hydraulic disc brakes. Gearing features a 52/36 chainring combination with an 11-32 cassette. Wheels are Stan's NoTubes new Grail disc road rims and tires are Continental Ultra Race 28c clinchers. GT's own stem and Drop-Tune handlebar form the cockpit, and the bike is completed with an FSA 27.2mm K-Force Light seatpost topped with a Fizik Aliante saddle. Also, all Grade builds will come with 160mm rotors, a decision that GT says was made to ensure plenty of braking performance on dirt descents, as well as road ones.
The Grade Carbon 105 will sell for $2599 and includes the same Shimano R685 levers found on the pricier option for mechanical shifting coupled with hydraulic disc brakes, as well as a full carbon fork. The rest of the drivetrain, including crankset, is made up of Shimano 105 bits.
The high-end aluminum build option is the Grade Alloy X, which retails for $1749 and features a terrific build with the same Shimano R685 hydraulic levers found on the two carbon models, as well as the same full carbon fork. It also features a Shimano 105 drivetrain.
The Grade Alloy 105 will set you back $1299 and comes with a carbon fork with an alloy steerer, Shimano 105 bits and TRP HyRD disc brakes. The crankset is from FSA.
While the aforementioned models all feature 11-speed shifting, the Grade Alloy Tiagra comes with a 10-speed Shimano Tiagra drivetrain and it sells for $1099. It also comes with an FSA Vero crankset with a 50/34 chainring combination and a 12-28 cassette.
The Grade Alloy Sora retails for $899 and features a 9-speed Shimano Sora drivetrain and mechanical disc brakes manufactured by Taiwanese company, Bangle. GT says that these brakes 'are basically Hayes CX-5 brakes.'
Finally, GT's entry-level Grade is the Grade Alloy Claris, and it sells for $799 and comes with an 8-speed Shimano Claris drivetrain, Bangle mechanical disc brakes and an FSA Tempo compact crankset.
Our first ride on the GT Grade included a hearty amount of climbing and some truly exciting descents on both tarmac and gravel roads.

FIRST RIDE REVIEW: GT GRADE
Our demo bike was the top-of-the-line Grade Carbon Ultegra. But instead of showcasing the stock Shimano R685 levers that are optimized for Ultegra mechanical drivetrains with hydraulic disc brakes, our demo model was built with R785 shifters and an Ultegra Di2 drivetrain (something GT chalked up simply to availability when planning out this particular demo fleet). Our 30-strong, rag tag bunch of GT employees and journalists rolled out of Park City, Utah for a 23-mile loop through the surrounding countryside. The terrain was about an even split of 50% tarmac and 50% gravel roads. On both road and off-road flat sections, the Grade exhibited plenty of the pedaling stiffness of which GT reps boasted. On the climbs, this stiffness was welcome as well, particularly when we hit some truly steep short, punchy pitches of up to 20% gradient. The inclusion of Shimano's 11-32 cassette is terrific and allows riders of nearly all fitness levels the ability to get up and over steep climbs, and this was especially apparent on loose gravel sections.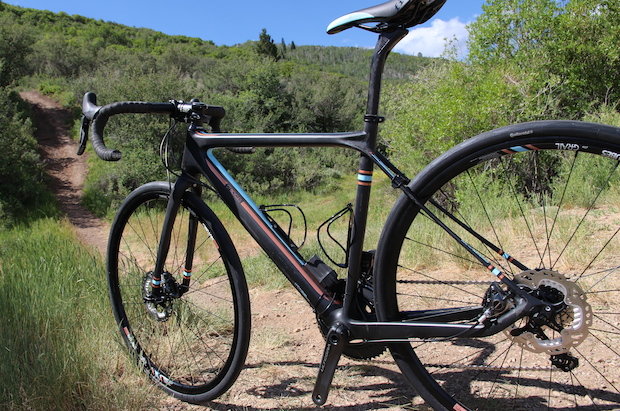 The GT Grade was a treat to ride on both tarmac and gravel, and it even proved capable of tackling some well-groomed mountain bike trails.

We descended a twisty section of tarmac switchbacks and the Grade handled great, and the hydraulic disc brakes allowed for late-braking into corners. This section gave way to a straight dirt section with a deep layer of gravel strewn over it. And although every single rider got a bit squirrely (including yours truly), very few flat-out lost control, which speaks volumes about the bike's handling capabilities. Per usual, here's our typical disclaimer when it comes to first rides: the GT Grade seems like an all-around terrific bike, but we'll need to get one back on our home roads for an extended test before passing final judgment. There are plenty of sizes and builds available to suit every rider, and the entire range seems priced extremely well. We're particularly excited about the $1749 Grade Alloy X, as it brings hydraulic disc brakes down to a sub-$1800 price point. Keep an eye out for a full test of the GT Grade in an upcoming issue of Road Bike Action magazine!
PUNCH LINES
– 2 Carbon builds, 5 aluminum builds
– Prices from $799 to $3299
– Six sizes: 51 to 60cm (GT also refers to its sizes on a XS-to-XXL scale)
– Claimed frame weights (size 56cm): 965 grams (carbon), 1350 grams (aluminum)
– Hydraulic disc brake-equipped aluminum build for $1749
– 160mm rotors on all builds
– Endurance-oriented geometry
– Compliance in spades for all-day comfort
– Rack and fender mounts for versatility
– Can run up to size 35c tire; probably even bigger tires for larger frame sizes
Our first ride on the GT Grade took us to some incredible tarmac and gravel roads in the countryside near Park City, Utah.
For more exclusive photos from GT's launch event for the Grade endurance road bike, be sure to follow Road Bike Action on INSTAGRAM! And don't forget about FACEBOOK and TWITTER!
Michael White