BATTLING THE CARBON GOLIATH ON THE ROAD TO GRAVEL
How the cost of carbon brought a fundamental shift to David Turner's frame business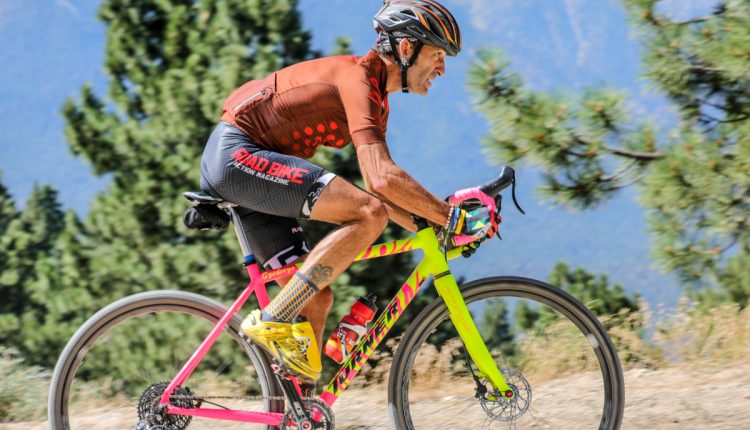 By Zap
From the long-ago days we shared on the NORBA National mountain bike race circuit, David Turner and I have enjoyed many moments together—he, as a between-the-tape racer, and I, as a standing-on-the-sidelines journo, and even up to the more recent days of him lapping me in one too many local cyclocross races, 
Over the years, I have not only lauded David as one of the smartest guys in the industry, but also one of the more dedicated and persistent, as evidenced by his ongoing David-versus-Goliath effort to keep his eponymous bike brand alive and kicking in the face of light-switch evolution of modern mountain bike technology. 
THE DROP-BAR ANGLE
Given that his very livelihood was based on designing and promoting the antithesis of cyclocross bikes, to say that I was more than a little surprised to see David start racing cyclocross a few years ago would be an understatement. But, he was into it. 
And, like me, it wasn't long before his attraction to cyclocross morphed into a greater passion for the comeuppance of gravel bikes. Soon there was an aluminum cyclocross bike, which was replaced by a titanium version. This was while he was trying to manage the ever-higher costs and complexity of the carbon frame production for his mountain bikes.
Finally, in the spring of 2021 came news that David was giving the Goliath nemesis of carbon production a pass. It turned out that the Asian factory that was making his gravel frames was just as happy to gain the added business of producing a titanium hardtail mountain bike frame that he had designed. Better still was David's realization that even in these carbon-crazed days, there was still a growing market for his titanium frames. And that's where this story begins. 
THE LONG HAUL
How long have you been in business?
I was a pro mountain bike racer from 1987 to 1991, and then spent two years working for AMP Research to help develop their full-suspension mountain bikes. I started Turner bikes in 1993 when the first prototypes for the Burner full-suspension mountain bike was created. And, it was one year later when the first frame was produced.
You made your name as a pro mountain bike racer, so how did drop bars enter your life? 
I started riding the road bikes when I was still an Expert-class mountain bike racer. Even then I knew I had to diversify my workouts to get faster on the mountain bike. There was a Tuesday-night series of mostly hill-climb time trials, and a neighboring town also had a summer series on Wednesday nights, so having a road bike opened a lot of opportunities for hard efforts. As much as I loved mountain biking, riding a road bike is a great way to build cycling fitness, and going faster on a mountain bike was what mountain biking was to me. 
I've always likened the job of designing bikes to playing roulette where at any given time, as the wheel is turning with known technology, production dates etc., at some point you have to commit and toss the manufacturing marble in. But then, who knows if the next day some new tech breakthrough emerges, and you just committed money for frame molds and certain components. It's a big gamble! 
Yes, it is, and continues to be a big gamble! When the mountain bike roulette wheel went into hyperdrive a decade ago, it helped to be a eudaemon. Luckily, things have slowed as the race to produce the longest, lowest, slackest mountain bike is over. Since a majority of riders cannot make a longer or slacker bike turn, the longer, lower, slacker revolution has hit the wall.
Like all equipment-centric sports, there is a point where the athletes, weight, costs etc. can no longer keep up with the radical change, which, oftentimes, are merely for the sake of change. So, like snowboards, skiing, motocross, tennis and a hundred other sports, the increments of change are now very small. It's adjustments now that is really fueling the marketing departments. 
Similar merging has happened on the road the last decade, but aero has been the key buzzword. Road bikes are now starting to gel into a couple of camps, and the bikes are looking more and more alike. Basically, to be pretty light, aero and not too ugly, many started to look alike. Geometry is done except for the micro refinements. It's a good time to toss in a new model and it's also a good time to buy because things are tightening up.  Now more than ever, a bike company has to have a well-designed, -funded and -executed marketing plan to get noticed, as the look and function of the different products is closer together than ever.
THE COST OF CARBON
How long did you produce carbon frames?
The first carbon frame was the XC Czar in 2014. The next model was the RFX, a 160mm travel enduro model, and the final was the Flux, a 120mm travel trail bike in 2019.
What is the cost of a closed-mold carbon frame, and what were the lead times?
For Turner Bikes, the cost of developing the design, including the molds, prototypes to test, etc., for the leadup to production  was in the $150K range. The cost for each company and each model are unique, and the price range is certainly broader than my experience. A not-so-fond memory of developing these models is the hidden costs of tooling. We used two different factories to create the three models, and one of the factories just kept adding on more tooling costs. 
For example, a rear brake-mount alignment tool. We were using the common post mount, and this is something that a factory making bikes should have, right? Not in their mind! Either Turner Bikes was the only one checking brake mounts or all the customers were getting billed thousands extra for the tools to make sure the brake caliper fit on the rear end straight. And, this went on and on! 
"Most gravel bike buyers are not road racers, nor are they pack-leading gravel racers. The explosion in gravel riding is for the 'fun' of it." 
And speaking of on and on, probably the hardest part of the process are the lead times. I have heard from "a guy I know" at Giant that they can bring a completely new model to market in half a year—amazing but not surprising, as they are a fully integrated brand and factory. I have also heard that Specialized plans on 18 months for a new model to be developed—reasonable, as they don't own their own factories. 
But, in the case of Turner Bikes and the factories I have experience with, it was taking over 24 months to go from first meetings to molds done and ready to produce. Oh, that $150K for the minimum number of molds (one for each frame size) included no production frames, nothing to sell at this point. So, depending on a factory's MOQ (minimum order quantity), it was another $100K +/- for production frames and another three to four months for production to be completed. So, trying to plan that far in advance with an ever-changing market was challenging to say the least.
Was there a particular moment when you said "enough" and made the decision to return to titanium only? 
When I started Turner Bikes we were building in aluminum. So, as standards of geometry changed, it was relatively easy to adjust to the changes by readjusting the welding fixtures and the tube-mitering schedule. Carbon molds, on the other hand, are like a very big waffle iron, only far more complicated. So, when the market wanted steeper seat tube angles for longer reach, lower stand-over height for longer dropper posts, and slacker head angles to make a longer wheelbase, you could just flush the old tooling! Cha-ching! 
CYCLOCROSS VERSUS GRAVEL
What differentiates your gravel bike from your old cyclocross bike? 
I think it's safe to say that the modern gravel bike is a direct descendant of the cyclocross race bike. But, over the last several years, the gravel bike has morphed into a completely different kind of drop-bar bike. A 'cross bike is a race bike with tire-size regulations, with UCI pros limited to 33mm and only recently USAC masters being allowed to use up to 38mm. So, frame clearance has reflected the maximum tire-size requirements. Cyclocross racing takes place on pretty consistent course designs, and a real cyclocross race bike is the master of its realm.  
"The ability to grip the bike and control the brakes in the drops is far superior, but most handlebars are positioned too low, which forces riders to spend more time on the hoods, which means hanging on by the thumbs and controlling the brakes from the wrong end of the lever." 
Of course, pro courses are way steeper up and down than we humans are used to, but 'cross races are all run in confined areas with dozens of turns per lap, so the geometry is tuned to turn and turn and turn. Given that they are race bikes, turning the cranks is what it's all about, even when traversing a side hill so the bottom bracket is higher for pedaling out of turns and across off-camber sections. Head angles are steeper to carve on the incredible number of tight turns per lap, and the head tube lengths/stack heights are lower so that when standing and hammering, the upper body is in the full-gas position. 
On the other hand, riding on a dirt road or even an old-school single-track trail is an entirely different environment, with long sections that lack 4-mph U-turns, which then puts a premium on stability. The bottom bracket heights are lower, the chainstays are longer and there's a lot more tire clearance. I think the gravel bike norm today is 700x45mm tire clearance, even though most riders are going to stick around 40–42mm. Top tubes are growing longer and head angles slacker (sound familiar?) for the great stability that they provide—all quite the opposite of a purebred cyclocross bike. 
And something that cannot be forgotten—accessory mounts! More threaded inserts for more bottles, a lunch box, toolkits and fenders. The gravel bike for most has become the utility bike, ready to go anywhere with enough kit to get you back. It's a jack of all trades, master of absolutely none. 
What is an important item that people need to think about as they move from road to gravel?
That they already have a road bike! Other than seat location, the fit needs to be different to get the most enjoyment out of riding a drop-bar bike in the dirt. There are racer types that say a race bike is a race bike. Fair enough. But, most gravel bike buyers are not road racers, nor are they pack-leading gravel racers. The explosion in gravel is really fueled by recreational riders who are just riding for the "fun" of it. 
So, a taller stack height is key to get the top of the handlebar closer to the level of the seat so that there is more control and less endo feeling on the dirt (or that feeling of sitting in the bike as opposed to on it). I fully believe that most gravel riders need the top of the handlebar close to level with the top of the seat. This allows for a lot more time on the drops without their neck, shoulders and lower back getting fried. 
I think riding on the hoods for a similar upper-body angle is a poor substitute for being in the drops. The ability to grip the bike and control the brakes in the drops is far superior, but most handlebars are positioned too low, which forces riders to spend more time on the hoods, which means hanging on by the thumbs and controlling the brakes from the wrong end of the lever. That may be fine for riding on the pavement, but it's not nearly as confident or safe in the dirt. 
Tell us about the new Turner gravel frame. What are the selling points? 
Although it's a totally different bike from the previous aluminum Cyclosys 'cross bike you tested previously, the new bike still uses the old name. But, what started as a pure cyclocross race bike is now a well-rounded drop-bar dirt road bike. 
The geometry of the old Cyclosys is very refined over the last several years of drop-bar riding in the dirt. Of course, the new bike can fit up to 700×45 and 650×52 tires, a fender and lots of bottles, but what sets it apart from so many others is that it creates confidence when the dirt is loose, steep and scary. It's taller in stack height than most so that the handlebar is more in front of the rider. 
The bottom bracket drop and chainstay length change through the range of sizes so that riders of differing heights experience a similar level of control, and all the top tube lengths are longer than a road bike so a shorter stem can be used, helping to reduce some of the flop that a slacker head angle, big tire and wider bar can create. 
What is it about titanium that you like?
It's shiny. Forever. No paint needed, and the metal is so tough that even well used, it still shines. As you have long known, Zap, I eschew flashy paint jobs. But, the flash of the metal makes a nice backdrop for all the dreary black-anodized parts I tend towards! The titanium also makes a nice backdrop for anodized bits in a veritable rainbow of colors. And, to me, colors still count.