When we think of bicycle frames these days, the only materials that come to mind are carbon, aluminum, titanium and steel. How quick we forget that the earliest of all bicycles were made from wood. Luckily, there are a few builders out there who have strayed from the modern pack and have sought to design frames that are made from more natural materials like wood and even bamboo.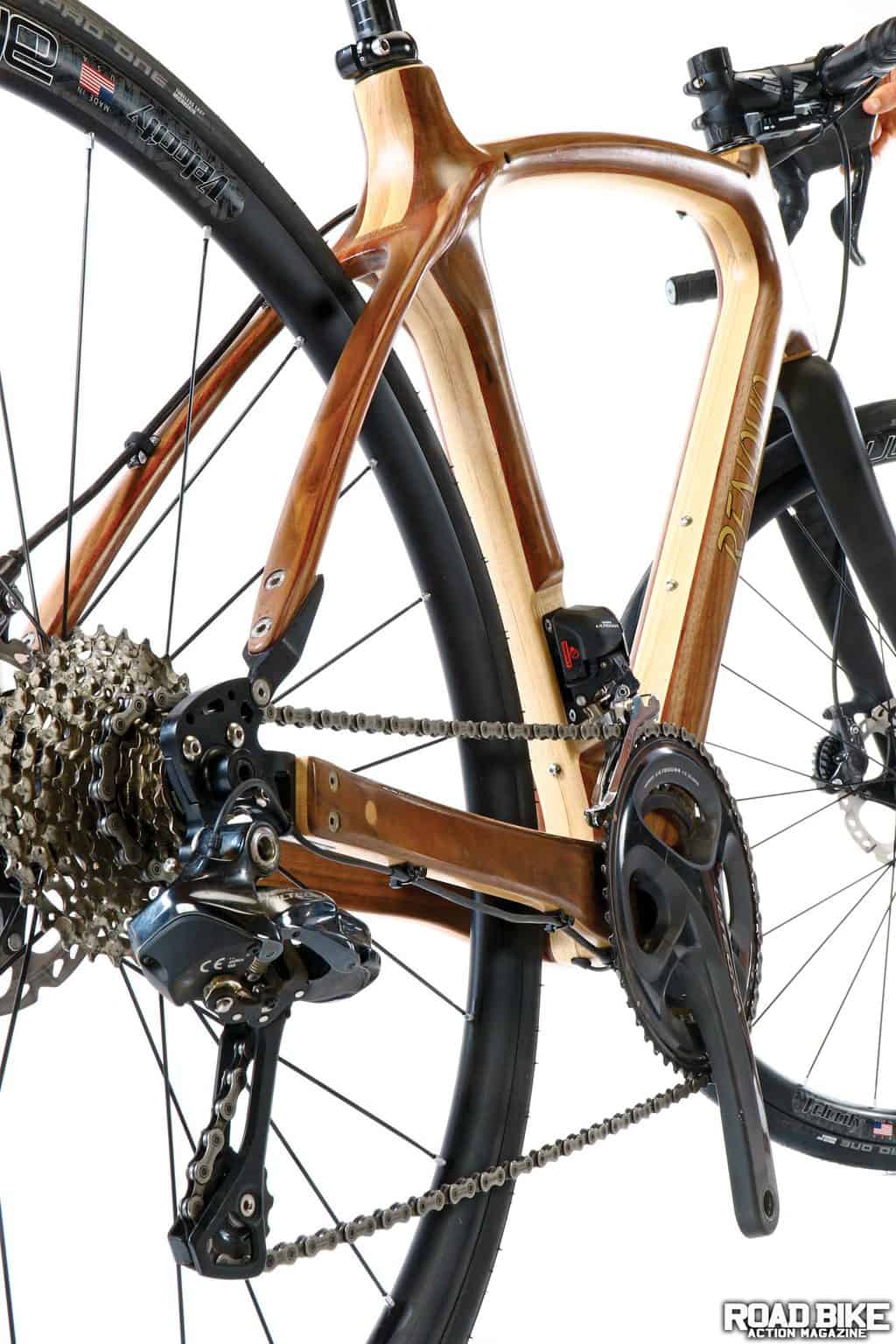 Renovo has been hard at work evolving the exotic breed of wood bikes since 2007. The company wasn't founded by either a traditional frame builder or a woodworker; rather, it was a group of cyclists with composite aircraft design, engineering and manufacturing backgrounds who decided to build bike frames with wood due to its unique engineering properties in which they felt could provide superior ride quality and stiffness if done
correctly. And "correctly" meant that they had to rely on their computer-aided design and machining knowledge to design hollow frames engineered to deliver the specific needs that a performance-oriented cyclist would demand.
Named after a region of Oregon that is criss-crossed with thousands of miles of gravel roads, the John Day is one of four road models found in the Renovo catalog, and it represents their endurance road bike/gravel bike.
THE FRAME
Like all other Renovo frames, the John Day starts with hand-picked and kiln-dried lumber that is analyzed, matched and laminated to other sheets of lumber before heading to the computer-controlled router. The result is 40 precisely shaped parts that get bonded together. This process of bonding sections allows Renovo to offer the qualities of wood in a hollow frame. Renovo does use alloy sleeves for the inside of the head tube, top of the seat tube and bottom bracket, allowing the use of industry-standard components.
When you look closely at the frame, you can see the precise cuts of the router combined with the hand-shaped contours that amplify the natural wood qualities. Where two parts of the frame join together, there is an amazing amount of engineering and craftsmanship that reminds us of a time when the merits of quality construction were more important than how quickly the frame could be made. Another standout part is the internally routed cabling in the top tube for the rear brake hose and front and rear Di2 wires.
The geometry is relaxed, with a tall head tube length of 17.7cm, an effective top tube length of 55.5cm and a longish 102.5cm wheelbase that can fit tires up to 40mm. For such a long bike, the reach is a comfortable 36.4cm with a head tube angle of 72 degrees.
At first sight, our eyes were drawn to the 28mm tires, which seemed dwarfed by the void that allows for much larger rubber. But within a blink, we were immediately, and rightly, focused on the obvious level of artisanal craftsmanship of the woodworking.
THE PARTS
Renovo offers four build options, as well as frameset pricing, and our test bike was their highest-end offering with a Shimano Di2 Ultegra build kit. Since the frame relies on disc brakes to control speed, our bike used post-mount hydraulic Shimano R785 shifters and calipers. The carbon Whiskey no.9 fork has a 15mm thru-axle, and the rear of the frame uses a 12mm thru-axle. The rear dropouts are also made in-house and specifically engineered to seamlessly mate to the wood tubing. This is matched to the tubeless-ready Velocity Aileron Pro wheelset with Schwalbe Pro One 28mm tubeless rubber. Renovo offers a few different tire options, but for our needs the 28s were perfect.
THE RIDE
Our first few test rides on the John Day consisted of  outings over our usual test loops, we immediately came away surprised at how smooth the ride quality was. The frame felt sufficiently stiff, but it was the kind of stiffness that left us wondering how it could be so comfortable and still so solid on the pedals. The wood offers a unique feel that is unlike any other frame material and is almost a hybrid of all of them.
The frame's stiffness matches that of an alloy or carbon frame with the natural damping of steel or titanium. There is also a very unique vibration-eliminating quality that can only be described as internal dissipation. There are a few hints of engineered compliance, like the bow-shaped seatstays and 27.2 seatpost, but the wood seems to have a natural quality to nearly eliminate road vibration. This offered a very confident and enjoyable ride even when we were on broken tarmac or unpaved roads. The long wheelbase also helps to maintain rider confidence no matter the road surface, even with our small 28mm tires.
The cornering is not snappy, but thanks to the thru-axles and lateral stiffness of the frame, the bike holds the chosen line for a very fun and capable descender. When the road tilts up, we felt the weight of the bike, but not as much as we expected. Thanks to its stiffness and quality wheelset, the power transfer was very good, and when combined with the exceptional comfort, the bike had a sensation of being lighter than it truly is.
The geometry proved a bit relaxed for our test riders, and almost all of them had the stem as low as it could go. When it came to pushing the unpaved limits of the bike, there were no complaints, and the long wheelbase made for great high-speed runs on less than ideal dirt downhills.
THE VERDICT
Despite our early presumptions, a wood bike is much more than a novel idea or wall ornament; these bikes were meant to be ridden and to be durable. The level of quality, engineering, artistry and craftsmanship are superb and evident from the moment you lay eyes on a Renovo. The unique ride quality that the hollow wood tubing offers is something that needs to be felt to truly understand. Disc brakes and Di2 bring a modern touch to a material that has shaped the world in so many ways. The combination of computer-controlled tools and engineering minds means that this ancient material is used to its fullest potential to deliver a quality ride that controls vibration transfer unlike any other bicycle.
PUNCH LINES
Dissipated road vibrations
Still as stiff as a board where needed
Made in the USA
STATS
Price: $6495 ($3495 frame)
Weight: 20.87 pounds
Sizes: 52cm, 55cm (tested), 58cm, 61cm
The Gear
Helmet: Bell Gage
Jersey: Pearl Izumi Elite Pursuit
Bib: Bontrager Velocis Thermal
Shoes: Bontrager Circuit
Socks: Volar Active Mt. Wilson
Glasses: Oakley Jawbreaker
Inside the Renovo factory