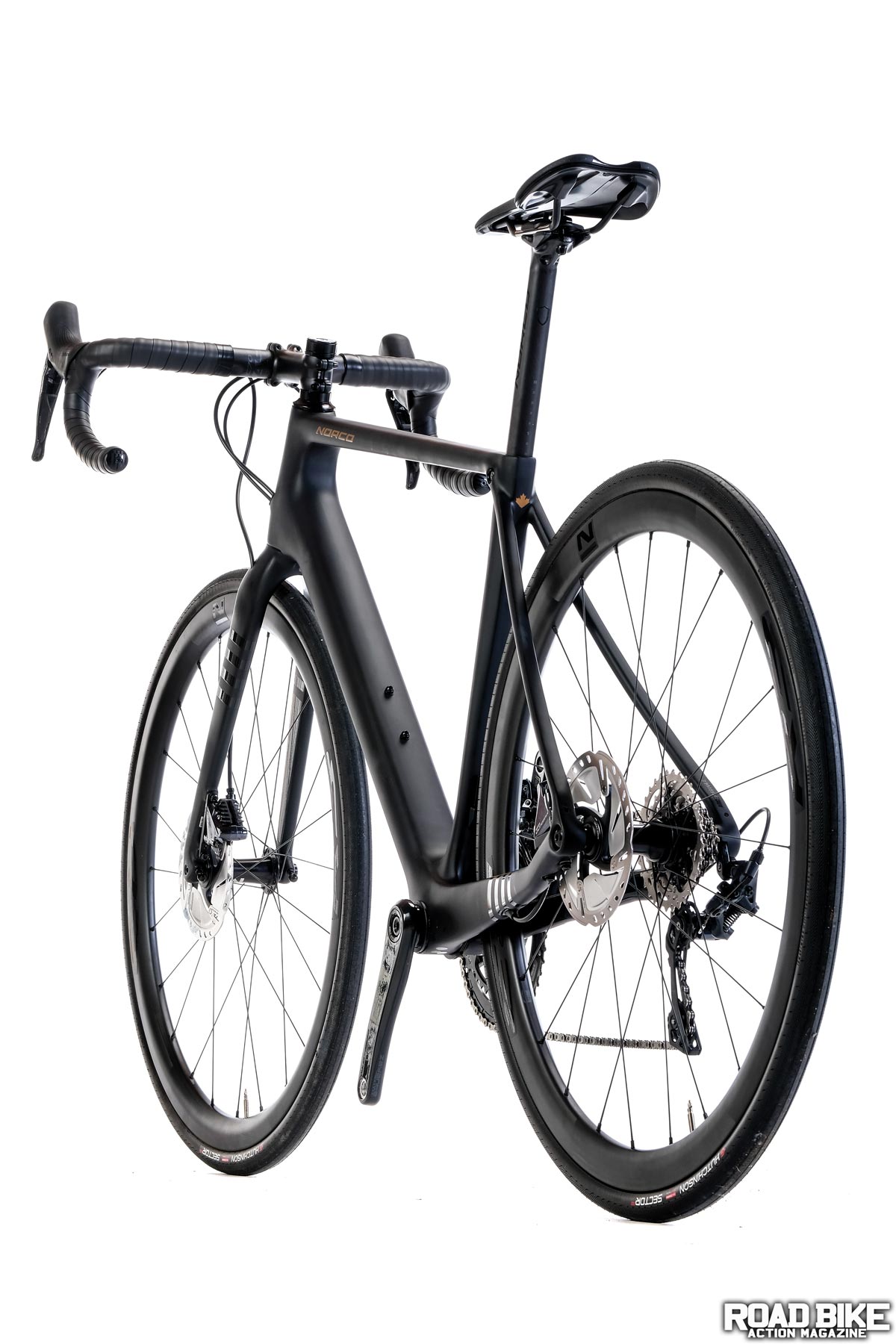 Norco Bicycles was founded in British Columbia over 55 years ago, and they are known for their progressive and innovative bikes in all categories. The brand was at the leading edge of road bikes when a 10-speed bike was much different than we know it now. Norco was also part of the BMX movement in the '80s and rely on their five decades of diverse design knowledge and customer feedback to deliver products that focus on performance no matter the category. 
THE FRAME
The Section Carbon is Norco's answer to the all-road category and was designed around a 28–35mm tire. Our size-55.5 frame features a very large and robust downtube that seamlessly connects the 15.5cm tapered head tube to the BB386 bottom bracket. The carbon fiber fork is specifically designed for the Section that also has sleek and hidden connection points for fenders. 
The frame utilizes the current standard of flat-mount brakes and 12mm thru-axles. The axles require a 6mm Allen wrench, so don't leave home without one. As they exit the bottom bracket, the 41.5cm chainstays are tall and beefy, and taper down before having a slight rise and meeting with the seatstays. There is a 47.7cm seat tube that has some lower shaping to accommodate the larger tires, as well as a hidden seatpost binder wedge.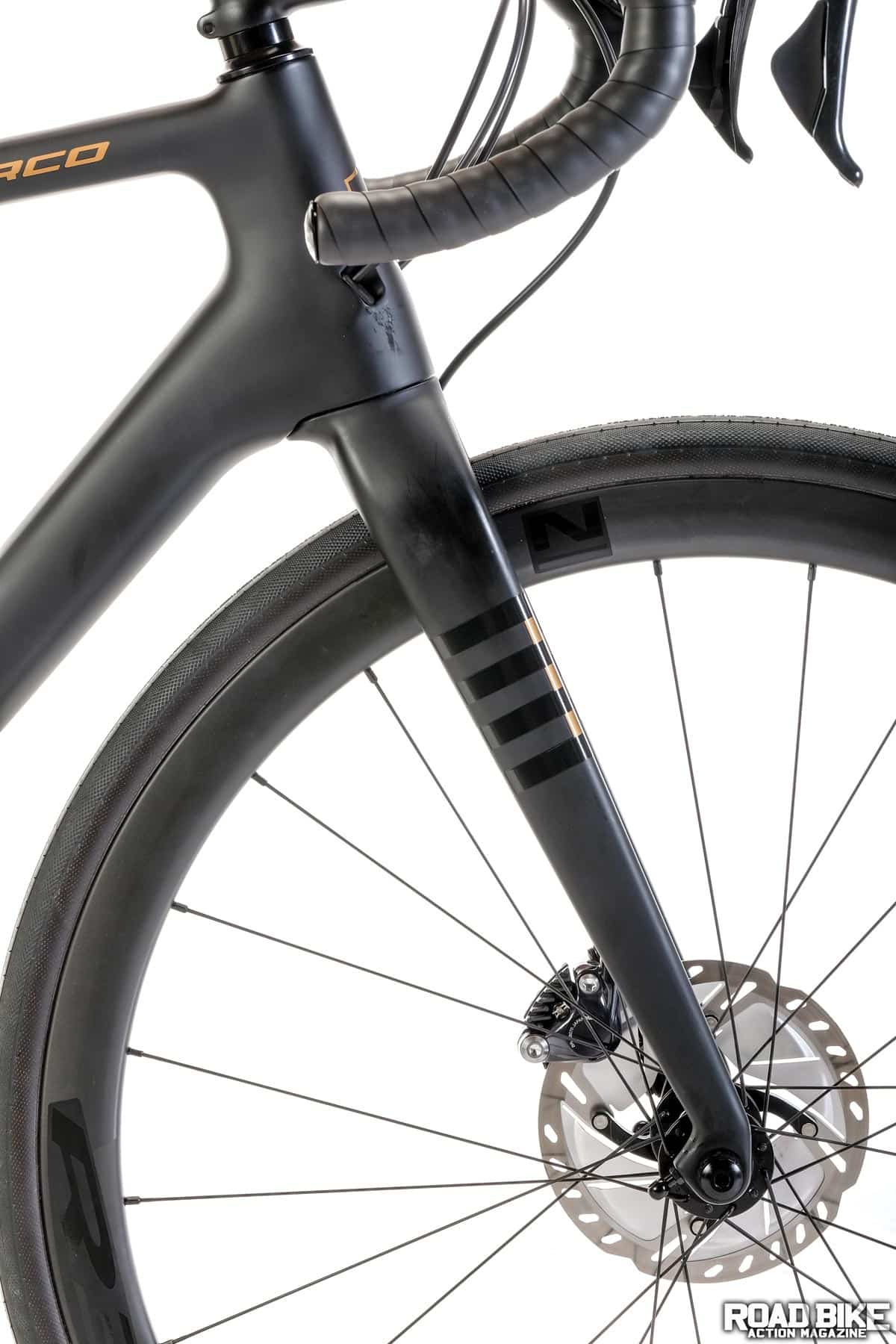 The frame is vertically compact, but with a 100.9cm wheelbase and 72.5-degree head tube, the bike achieves a reach of 39.2cm with a virtual top tube of 56.5cm. There is a stack of 57.4cm, leaving the Section a fairly aggressive and performance-oriented bike for the category. All the cables and brake lines are run internally, making for a very clean aesthetic as well.
THE PARTS
The build was the highest level out of the four offerings, with Shimano Ultegra handling the shifting and braking duties to 160mm Shimano Ice-Tech rotors. The cable-actuated Shimano Ultegra R8000 derailleurs are matched to a widespread 11-32 Shimano cassette and the Praxis Zayante Carbon crank with 50/34t rings. 
The 6-degree flared carbon handlebar is held in place by a 100mm alloy Norco stem. The 27.2 carbon seatpost is also Norco-branded and supports a Norco SL Race saddle. The Section runs on a set of asymmetric shaped, tubeless-ready Novatec R3 carbon disc wheels mounted with 32mm Hutchinson Sector tires. 
THE RIDE
When first setting up the Section, we were surprised at how performance-oriented the geometry was for a bike that has no problem clearing 35mm tires. Actually, even with 35mm tires, there is still room to spare to go even bigger. Within only a few miles, it was clear that while the bike might fit large tires, it is designed for speed and performance. 
Sure, the 32mm tires and the well-designed rear triangle offer great in-saddle compliance, but out of the saddle, this bike is stiff. Laterally, the bike is rigid from axle to axle, and this makes for a quick-responding and predictable ride.
Hard efforts, standing climbs, sprinting or just spinning the Section performs extremely well. We did a few of our local group rides that are what might be considered competitive in nature and include sprints and sustained climbs that see their fair share of battles, and the Section did not miss a beat. As we rode the bike more, we forgot that it had 32mm tires, because the bike handles extremely well and is nimble on curvy descents. The laterally stiff design also complements braking and offered precise and efficient stopping power. It is also worth noting that there was no rotor rub after hard braking or efforts.
We rode a few unpaved roads as well, and it was comfortable and fast. What it is not is a gravel bike, and on the non-maintained roads, it was out of its element. Those roads can be paved or unpaved, and the Section handles them both well—just don't expect it to head to the Dirty Kanza, because for that we would rely on the Norco Search XR (RBA, March 2018).
THE VERDICT
At the end of the day, the Section is a road bike that performs well on a very wide range of disciplines. It is light enough to be an all-day climbing bike and stiff enough for the sprinter in all of us. It responds predictably no matter the road surface or speed. Tight, winding descents are fun, and the handling is nimble but not overwhelming. If there is one thing the Section Carbon line is missing is color, and for that reason, we would probably choose the frameset that comes in a green fade for $2000 and build our own. 
The all-road and endurance categories have always blended together, but the Section focuses on performance while still offering in-the-saddle compliance. There are no widgets to achieve this, just five decades of experience and rider feedback, then translating that into a product that consumers will enjoy.
PUNCH LINES
A performance road bike
We want color
Good value and heritage
STATS
Price: $4449
Weight: 17.56 pounds
Sizes: 48, 50.5, 53, 55.5 (tested), 58, 60.5cm