A first ride on Enve's new 3.4 SES wheels
Photos: Ian Matteson
It's no secret that in the span of just a few years, Utah-based Enve Composites has become one of the most talked-about American wheel-maker, owing to a succession of high-performance carbon hoops they've rolled out. Apparently, word of Enve's many accomplishments was picked up overseas, as one of the biggest industry news items that occurred last year was when iconic French wheel-maker Mavic purchased the upstart American brand. What the consolidation of these two wheel giants brings in the future is still unknown, but it's good to see that Enve has not slowed in the production of cutting-edge wheels.
That brings us to the newly revamped SES 3.4 wheelset. The new SES 3.4 is designed as a climbing wheel with an aero advantage, as Enve made it possible to balance aerodynamics with weight and handling. Growing acceptance in road disc brakes, Enve came prepared to their 2017 ride camp in Scottsdale, Arizona with both the SES 3.4 in rim and disc versions. Both of the wheelsets are tubeless compatible.
THE TECH
What first stood out with the Enve rims was the wider, 21mm internal rim width, which is aerodynamically optimized to run with a 25mm tire. Enve is quick to say that while the 3.4 could run up to a 36mm tire, they have other wheels in the line that are better suited for more gravel-specific use.
"The Enve SES 3.4 is a complete wheelset that would be a great, all-around wheel for any consumer who wants to climb but also get their fast flat rides in as well." 
The SES 3.4 wheelset is available for either disc or rim brakes. We tested the rim brake wheelset, which gave us the chance to try out their new and improved in-molded brake-track system. With the growing popularity of disc brakes and the fact that they bring more braking power, Enve has massively improved their rim brake design to help fill the gap. According to Enve, the new brake track requires 30 percent less effort of brake-lever pull to accomplish the same amount of stopping power versus the old design. To help achieve the improved stopping power, Enve requires that their own black carbon brake pads be used.
Enve chose to go with internal nipples for their new rim. This internal choice is said to make the rim structure more efficient. If they chose to go the route of external nipples, this would've resulted in bigger holes and more material to be used. Titanium skewers were added to keep the weight on the lower side.
Tubeless-compatible wheels are nothing new, but they have been growing in popularity as of late, no doubt owing to the increase in "gravel" where the design makes so much sense. All of the Enve SES 3.4 wheelsets feature road tubeless compatibility. With many benefits to riding tubeless over rough roads, it is a great option to offer on either wheelset.
The front and rear rims have dissimilar shapes and geometries that come from their latest evolution of their patented Smart System rim shaping. The goal in their new design is to combine a lighter climbing wheel that also had the benefit of aerodynamic efficiency. Enve was able to decrease the depth of the new rim with minimal loss in aero efficiency. The front and rear rims have different external widths, which is good news for many modern road frames that now provide added wheel clearance.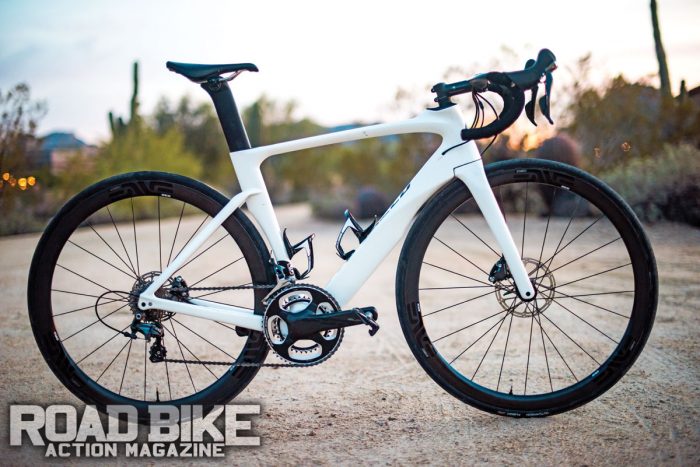 THE RIDE
We were told to be easy on the brakes when we first hopped on the wheels as they do stop stronger than your average rim brake. Indeed, the new and improved brake track is truly new and improved. Even with the compatible brake pads toed in correctly, the brakes have a slight humming noise to them, which increases the harder you brake. This isn't to be confused with the squealing noise you hear with some other carbon wheels when not having the proper brake pads installed.
During our testing of the Enve SES 3.4, we had our rim-brake wheelset set up tubeless as we used it on the road and off on gravel roads as well. The wheel is billed as a climbing wheel, which did work well once the road tilted upwards, but we felt it is safe to put it in the all-around category as well.
When we think of a climbing wheel, the profile of the 29mm-deep Reynolds Attack wheel is among the first to come to mind. The 3.4 has a depth of 38mm front and 42mm rear, which don't exactly scream climbing wheel; however, this doesn't take away from their performance. The wheels kept a good pace when we were accelerating up canyons, which was probably helped by their aerodynamic benefits. Riding over shorter/steeper climbs, they were able to react whenever you jumped out of the saddle.
Running with tubeless tires at 80 psi, we took them off road as much as we could and enjoyed a very comfortable, stable ride. Using 25mm tires gave the wheel a plush pavement ride for longer endurance days, yet they could still pass as a legitimate race wheel.
THE VERDICT
The Enve SES 3.4 is a complete wheelset that would be a great, all-around wheel for any consumer who wants to climb but also get their fast flat rides in as well. The titanium skewers can strain a bit, as they are light, but you just need to make sure to tighten them down a bit tighter than you would your average skewer.
The only downside with the new Enve SES 3.4 may be in the price tag, as they start at $2700 and rise up to $3500, a price of some complete carbon bicycles out there. This is an Enve wheelset, though, and with that name comes a price tag that does get backed up with quality and performance. The new Enve SES 3.4 ranks right up there with some of the best versatile, complete wheelsets on the road today.
PUNCH LINES
Tubeless compatible
Available in rim/disc clincher & rim/disc tubular
Molded-in brake texture
STATS
Price: $2700–$3500
Weight: 1331 grams (rim brake with Enve carbon hubs), 1403 grams (disc brake with Enve carbon hubs)
Rim depth: 42mm (rear) and 38mm (front)
Rim width: 21mm internal/29mm (rear)/29.75mm (front) external
Spoke count: 20 (front), 24 (rear)

RBA MINI-VIEW
Hoop development with Jake Pantone
RBA: What is the new Enve SES 3.4?
Jake Pantone: The new SES 3.4 is defined as a climbing wheel with an aero advantage. We've had the previous 3.4 on the market for about five years now, and during that time we've learned a lot about aerodynamics. With the new 3.4, we have refined the depths from the previous 3.4 of 35mm front and 45mm rear to the new 38mm front, so slightly deeper than the previous generation, and a 42mm rear, which is slightly shallower than the previous generation.
RBA: What was the reasoning behind changing the depths?
Jake: The reasoning behind that was that we were chasing more advantages in aerodynamic performances. We're in the same level as aerodynamics that we were with the previous wheel, but this wheel has been optimized around a 25mm tire, and the internal width has grown to be 21mm, so it's quite a bit wider than your original 3.4. We have also been able to shave a lot of weight out of the new 3.4 wheelset.
RBA: How would you describe the evolution between the disc and caliper brake wheel? 
Jake: The rim brake model has a new molded-in brake track, which has a new brake-tracking texture that improves braking by 30 percent compared to the previous generation. It really levels the playing field with the difference between wet and dry braking. Team Dimension Data has been using this new rim tracking since Tour of California back in 2015. Our disc brake model is specifically optimized for the disc brake, which means that the construction of the rim itself is disc brake-specific. There's no brake track; the laminate of the rim is completely different, which means the wheelset is about 100 grams lighter than the rim brake version.