So obvious was the coming of a full-suspension gravel bike that even a blind man could've seen it looming on the Kanza horizon. After tempting the bike industry for the last two years with prototype versions of varying levels of reality, Niner came clean at the 2019 Sea Otter with an as-close-to-production looking version of their talked about MCR  (Magic Carpet Ride) bike on public display.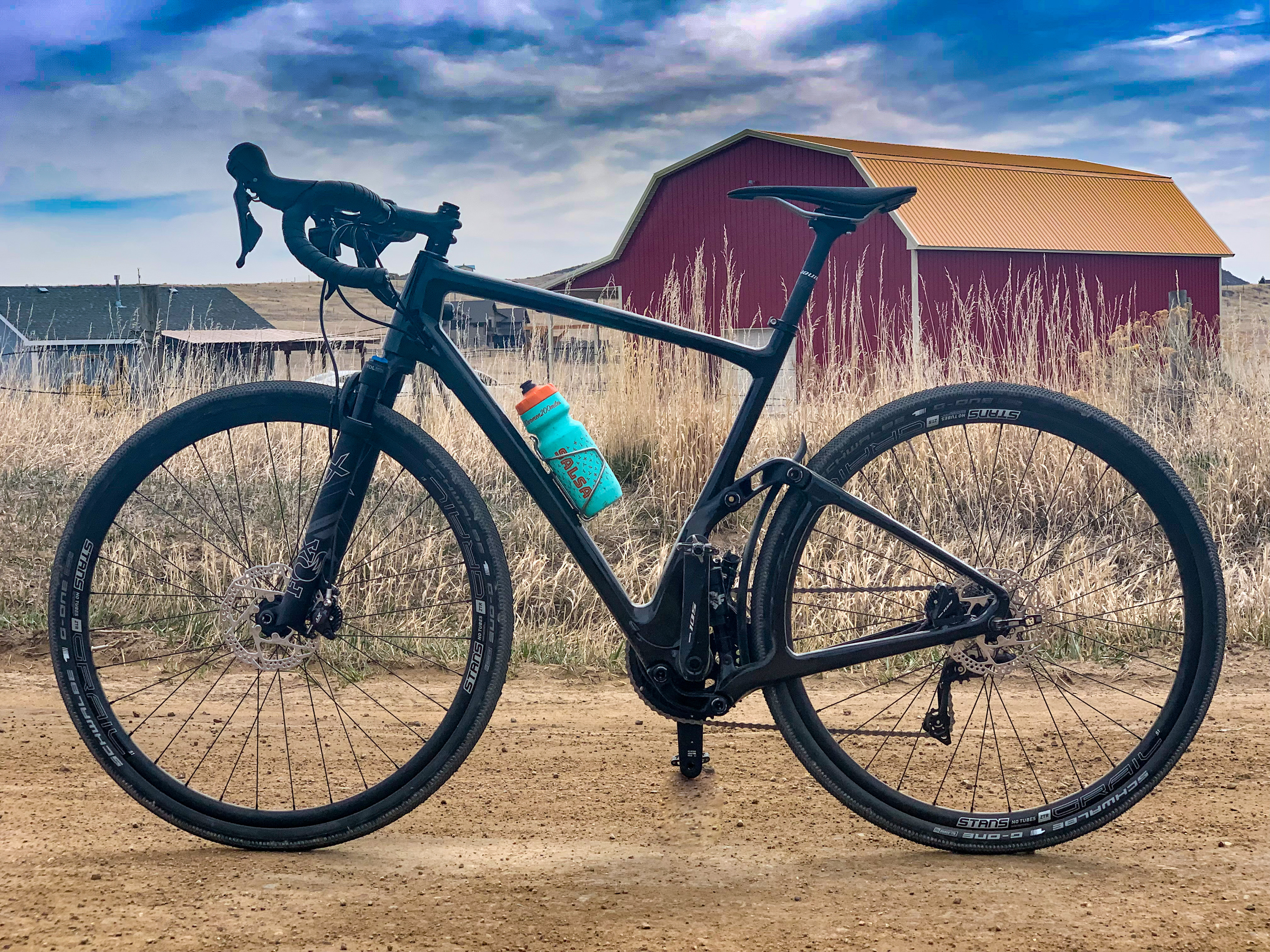 Not content with just standing among the Sea Otter attendees, we did some advance work to not only provide a first-look of the radical gravel rig, but also a first-ride review.
THE HISTORY
Full suspension. Let's not pretend that any of this is new. Bicycles have been utilizing some form of suspension for the last century. Most recently, both Trek and Calfee have advanced the idea of what minimal amounts of rear suspension can do to aid rider comfort, safety, and yes, even performance.
It was back in 2017 when Niner first showed up displaying their aluminum RKT 9 RDO mountain bike that was built up with drop bars. While this seemed to be a bit extreme for a gravel bike (with 100/90mm of front and rear travel), it was evident that the category was progressing.
Fast forward to 2018 and Niner was back at the Sea Otter Classic with what looked to be a carbon prototype (actually an unrideable 3D plastic printed model) that was built up with all the appropriate small parts and components that they had been testing with alloy prototypes. Turns out Niner employees had been riding and refining an alloy prototype. This plastic model being shown was very close to the final design of what would be made from carbon.
WHAT ABOUT THE BIKE?
There were two to speak of actually. One was the prototype that Troy got to ride when he visited Niner the week prior to the Sea Otter. The other was the bike they showed at event that was as polished and finished looking as any production bike ever could.
In reality, the bike still had a ways to go in terms of final hardware choice and suspension settings.
THE UP & DOWN
Niner has worked with Xfusion to produce a rear shock that provides 50mm of wheel travel in conjunction with their own CVA (Constantly Varying Arc) linkage design. Up front they are currently using the Fox 32 Float Step-Cast AX fork with 40mm of travel. Those two components had been the biggest barrier to completing the bike, but Niner is confident in the performance of their current construction.
THE RIDE
As expected, it was when the roads turned to dirt the MCR truly came to life.  At first it seems almost comical at how well the bike maintained its momentum and speed. Between the pot holes and washboard bumps, the suspension allowed us to stay seated and maintain a steady cadence and power. There were a few holes that were bigger than the average and we pointed straight for them to see how it handled. Like everything else they were felt but significantly muted while keeping the tires planted for traction.
Cornering was maybe one of the best traits as the tires stay planted, gripping the terrain so we could keep the power on. Hard braking is also rewarded with very short stopping distances, but the fork does dive and we could have probably used a bit more tuning on the slow speed compression.
Thanks to its ability to maintain contact with the ground no matter the imperfections, the MCR was the most confidence inspiring drop bar bike I've ridden on dirt roads. Traction on the road also seemed to be increased as the rear shock is active but not robbing of any power transfer.
IN THE END 
Despite being asked the same question over 1000 times at the Sea Otter, the answer remained the same; the bike is planned to hit the market sometime this fall with both the final price and weight still an unknown. Since Niner was showing-off two models, we figure there will be a high-end version joined by a less expensive model. Don't expect either to be cheap.
This MCR project is a big risk for any bike company, especially a mid-sized company like Niner so kudos to them for not only believing in the concept, but doing the hard work to see it through. Sure, any full-suspension bike will be heavier and there are added complexities, but after his test ride Troy said he was sold.
AT THE BOOTH
Niner put together a presentation at Sea Otter and here are a few of their talking points.
For more info: Niner MCR 9 RDO