In Zap's RBA column in the July issue, he spoke about running into early East Coast mountain bike pioneer frame builder, Chris Chance. What many people didn't know was that, like his West Coast brethren, Chris got his start building road frames and even returned to skinny tires at the height of his popularity as a dirt bike builder with Fat City Cycles. Fat City Cycles and it's iconic Yo Eddy logo were emblematic of Chance's less than traditional style. The brand kept it fun and churned out some really cool steel and titanium bikes.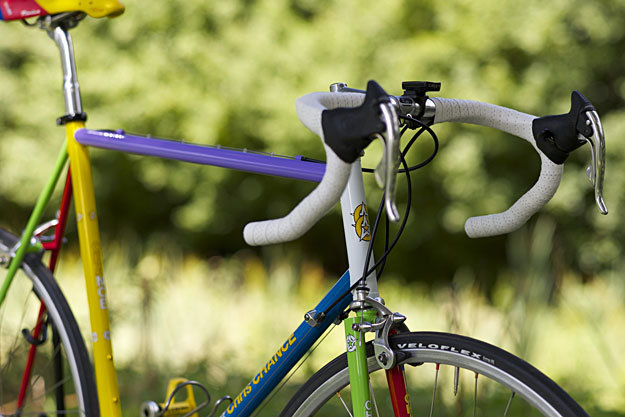 Before he founded Fat City Cycles, Chris Chance was producing beautiful namesake road frames…maybe not worth a million, but definitely a worthy collectors item.
We decided to chase Chris down for some info on his classic Slim Chance road bike: 'Yes, I definitely got my start in road bikes, building frames way back in early 1974 in Connecticut. I rode a lot, raced enough to become Cat 2 and thoroughly enjoyed my years on skinny tires. Fat tires took hold of me, and it was a few years before I got back to the skinny side. We started selling Slim Chance bikes in 1990. I had built a welded road frame with a box-crown fork for a personal ride sometime around 1987, and that got me going on making the Slim Chance available for others. I had been impressed with how durable our Team Comp mountain bike was. It was made with light-wall, heat-treated steel tubing. This convinced me a road frame would have no problem being TIG welded, as all our mountain bikes were.

"I had been feeling the itch to build road bikes again after a few years of being hardcore in the dirt. We wanted to show the world how awesome a TIG-welded road frame could be. I got my start in frame building with road bikes. It was time to show the world what was gained from mountain bikes and bring it into the road bike world. Lugs look pretty-I should know, I spent lots of years filing on them to make them so-but they add unnecessary weight. Our mountain bikes were beautifully welded and very strong; why not make a road frame with the same technology? I have always been drawn to and committed to doing all I could in building high performance into my bikes. TIG welding a steel road frame was totally in alignment with that idea, even though steel frames at the time were brazed/lugged construction.
'We built them with a couple of different forks-unicrown and box crown-before settling on the Yo Eddy road design, a beautifully performing, TIG-welded steel fork that weighed in at 560 grams with a 1-inch steerer. We built 10 of them for the Mavic tech support team; I think they were used for the 1990 and 1991 race seasons. We heard lots of great comments, through the tech support guys, from racers who got to ride them when they flatted in a race. It would be great to chase down who was on the tech support crew back then and hear their stories.'

Zap and fellow Mountain Bike Hall of Fame homies; Marin pioneer Charlie Kelly and frame builder Chris Chance at the the 2011 North American Handmade Bicycle Show.

Here's a nice 1992 Slim Chance from the extensive FirstFlite Bikes collection.

It's slowly happening. You can see it with running shoes and a few other consumer goods…the return of neon! The sooner some bike brands recognize how fabulous neon bikes would be in the current see of black on black carbon the better. This Slim Chance features one of the box crown forks.

VIVA YO EDDY!
Road Bike Action