THE FORGOTTEN HIGHWAY: RIDING CALIFORNIA'S RIDGE ROUTE
Exploring a 100-year old highway lost in time
By Neil Shirley
In 1915 a stretch of road was opened that would unite Southern and Northern California during a time in which farm workers were flooding into the central valley from all over the country. When the Castaic-Tejon Route, now commonly known as The Ridge Route, opened as an unpaved road the 120-mile drive between Los Angeles and Bakersfield took around 12 hours. Many historians credit the roadway with uniting Northern California's economy with that of Southern California and helping end talks in Sacramento to divide the state in two at the Tehachapi Mountains.
When constructing the road with horse-drawn scrapers, to save costs by avoiding having to build bridges and road cuts, a 36-mile stretch with a 15mph speed limit between Castaic and Gorman traversed 697 curves atop of the mountain ridges. Several small filling stations and inns opened to serve the travelers and repair their overly-taxed vehicles. With the exception of a stone archway where the Tumble Inn once stood, all that's left of them are their foundations.
Much of the original Ridge Route has been covered over by I-5, but a particularly special stretch still exists and has long since been closed to motor vehicles and thus, forgotten in time. Once passing through the first of two gates that make 13 miles of the mountainous Ridge Route accessible to only hikers and cyclists, it's a ride through history as you pass the foundations of inns and cafes with informational plaques marking the spot they once stood. The stair-stepping climb up Ridge Route isn't the hardest in terms of steepness, it's the road conditions that create the biggest challenge.
RIDING THE OLD RIDGE ROUTE
Making a loop out of the Old Ridge Route is the best way to experience the area (here is a Strava route file). While it's only the 13-mile stretch that's closed to motor vehicles, in reality, you will likely see no more than a couple of dozen cars on the entire 67-mile loop. Before we get to the fine details of the ride though, there are two critical things to cover—equipment choices and water.
Riding the Old Ridge Route is something that can be done on a road bike, but using a tire narrower than a 25mm is not recommended. A 28mm width is preferred, even for those adept at riding their road bike on dirt. Little maintenance has been done on the historical highway in the past couple of decades, so holes, dirt, rocks, and gravel are all going to challenge you and your equipment. Be sure to bring multiple tubes, a patch kit and a pump so you can get yourself back, even with a sidewall cut. There is no cell service out there, so plan accordingly.
Water is not available once leaving Castaic until Papa's Country Store in Lake Hughes at mile 44. Getting to the store requires a 1-mile deviation from the route, passing by the right turn on Lake Hughes Road and continuing on Lake Elizabeth Road into the small community of Lake Hughes. With summer temperatures often hitting triple digits, bringing an adequate amount of fluids is critical. The town of Gorman, 13 miles from the route's intersection of Pine Canyon Road and Old Ridge Route, has convenience stores as well, but will take you a long ways off route.
RIDGE ROUTE LOOP RIDE STATS
Distance: 67 miles
Elevation Gain: 7,130 feet
Difficulty: Moderate (16 miles of mixed-surface conditions)
From the town of Castaic, situated just off I-5, and 45 miles North of downtown Los Angeles, Ridge Route Road passes directly through town where street parking is in abundance. The road instantly begins climbing as it goes past Lake Castaic, with the next 8 miles a mostly steady 4-5% grade, with the exception of two double-digit percentage sections within the first few miles. At the top of the first summit comes one of only three stop signs on the entire route as the road intersects Templin Highway. Continuing straight, the road becomes Old Ridge Route and soon after passing by a handful of homes you'll get to the first of two locked Forestry Service gates at mile 9 (from Castaic). The road is closed to motor vehicles for the next 13 miles, while riding and hiking is permitted.
Once past the gate, road conditions are great with mostly new pavement, but as you reach the summit of the first stair step conditions degrade. Within the next couple of miles the road narrows to one lane and potholes become more prevalent. The longest stretch of dirt greets you before the next climb begins, and while it is on the descent, it's not especially technical. Do be forewarned of large black mats on the road, hundreds of them, which have been laid in critical areas to cover holes and help reduce erosion. Riding over the mats isn't a big deal, you just shouldn't be trying to push the limits of your technical ability when encountering them.
The next 1.5-mile climbing section takes you through the marvel of the highway's construction–Swede's Cut. It was one of the few places the highway couldn't just go over or around the mountain and required earth moving through manual and animal labor, using mules, horses and men with scrapers.
If you're not in a hurry, you can stop at a few of the historical markers and read about the buildings that once served as restaurants, filling stations and inns for the travelers. Once coming to the second closed gate you still have another two-mile climb to the highest point of the route at 4,200 feet in elevation called Liebre Summit and what was home to the Sandberg Log Cabin.
Through the upper part of this section you can get a sense of what it's like to ride Paris-Roubaix as the road is quite rough and full of sand and decomposing asphalt. By now you'll probably be fairly comfortable riding on such surfaces and maybe you'll want to have your own Fabian Cancellara moment, knowing that you're soon to be on smooth pavement for the remainder of the ride.
Although the original Ridge Route continues on through the town of Lebec, the most remote section is now behind you and a mile after the road quality makes a marked improvement you'll turn right on Pine Canyon Road. Just a handful of farm houses are on this quiet road, where some of the rolling terrain will have you wondering if this might just be the highlight of the entire day. After 8 miles, Pine Canyon Road continues on after a right hand turn at Three Points and begins a 2.5-mile, 5% climb before a 5-mile descent is only interrupted by one rather punchy roller.
To continue following the route, a right hand turn on Lake Hughes Road will need to be made, but if you're in need of water then continue straight past the turn for 1-mile into the community of Lake Hughes and stop at Papa's Country Store on the right hand side. Once backtracking after the fuel-stop, make the turn on Lake Hughes and you'll have a twisty, mostly-downhill 12-mile stretch through a beautiful canyon.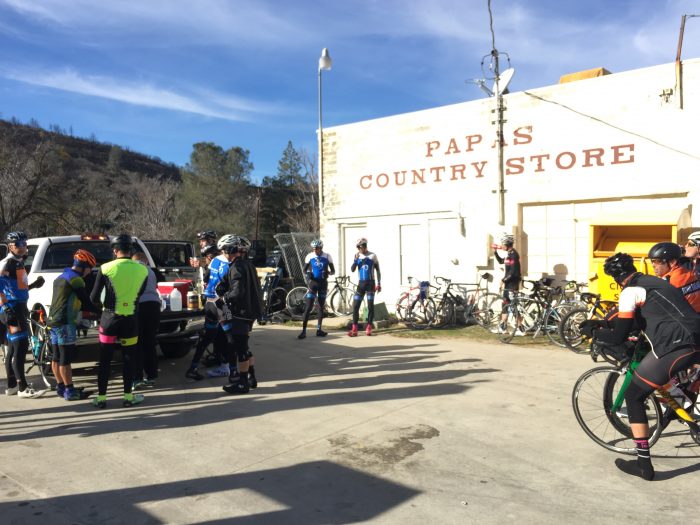 Unfortunately for those that didn't meter their efforts well through the ride, a 2.2-mile climb back out of the canyon could expose some weakness, but if not there, then two particularly cruel kicker climbs nearly within sight of Castaic will surely finish you off. But from there you can enjoy the 2-mile pedal-free plunge back down to the starting point.