By Zap
It's amazing what kind of impact a single racing moment in time can have in the memory banks of so many people. Take for instance Greg LeMond's defeat of Laurent Fignon with a comeback win by 8 seconds in the 1989 Tour de France. Or, the famous crash in the 2003 Tour with Lance Armstrong and Iban Mayo after the Texan's handlebar snagged a spectator's plastic bag, causing them both to go down hard as they battled with Jan Ulrich—before Lance remounted and still took the stage win. Wow, what never-to-forget moments!
Similarly, with each new gravel bike that shows up rolling on big fatties, over and over again we've heard many two-wheeled history buffs cite a single event—John Tomac's ride at the 1990 UCI Mountain Bike World Championships aboard a drop-bar Yeti C-26—as the impetus for these modern gravel bikes becoming commonplace. If only that was the case.
THE TOMAC EFFECT


When it came to running a drop-bar/fat-tire setup, Tomac was far from an original. However, he was John Tomac, and irrespective of his foray on skinny tires, by the summer of 1990 he was already well-established as one of the most exciting and marketable pro mountain bikers alive.
Following that short-lived stint with the famous 7-Eleven road team, in the spring of 1990 the "Tomes" made the decision to return to fat tires. With no solid mid-season offers from any big brands coming his way, Tomac made a handshake deal with Yeti founder John Parker that in lieu of any money specified only that a box truck and mechanic would be there to support him at the races. Thus was born the sport's first-ever use of a box truck at the races, which became a de-rigueur staple by the following year.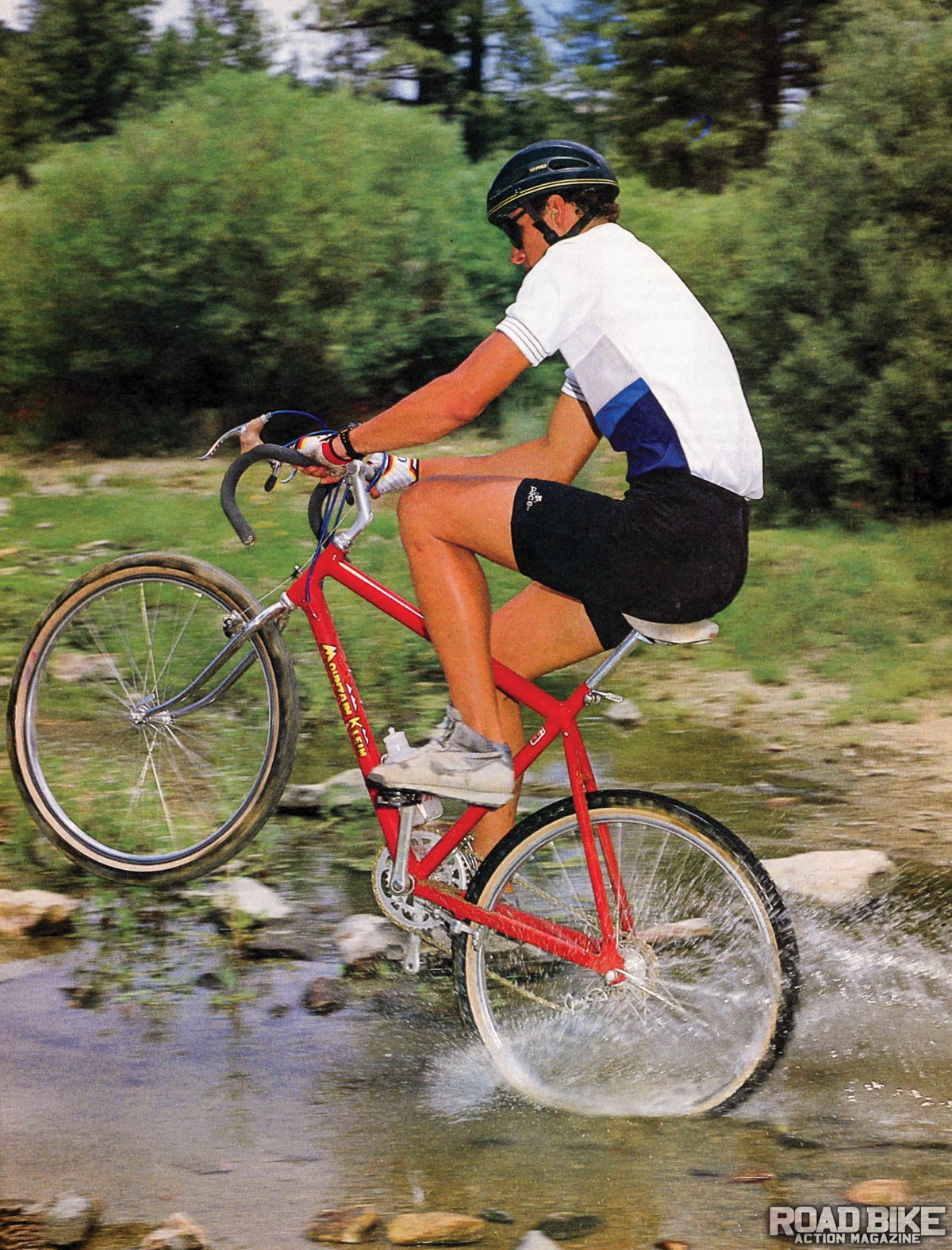 By the time the NORBA National Series hit the mid-summer Park City, Utah, round, Tomac was aboard a custom-built steel Yeti FRO that mimicked the position of his road bike. The man who made that frame was Chris Herting now of 3D Racing, and as he recalls, "Everything on that bike was either drilled out or cut down to save weight. And when he asked us to use some drop bars, we all thought he was crazy!
"When it came time to build the famous carbon-tubed C-26, I used way-flat geometry, which was unlike anything we used for the production mountain bikes. The top tube was longer and it didn't slope. I honestly don't know how he rode that thing in the dirt as well as he did." 
BUT BEFORE TOMAC
As much as the image of Tomac and his Yeti C-26 is lodged in many a back-in-the-day mind, lest we forget Specialized team riders Dave McLaughlin and Gavin Chilcotte  pushing their pink mountain bikes with drop bars up a steep hill at the 1985 NORBA Nationals. As David told the tale, he and teammates Gavin and Lawrence Malone were former road racers, and they each figured they could go as fast with drop bars as they could flat bars. And so on went the Cinelli handlebars. 
Right around the same time NorCal bike builder Charlie Cunningham started running drop bars on his innovative aluminum race bikes. Into the late '80s and early '90s his wife, Jacquie Phelan, was the most celebrated mountain bike racer using drop bars. However, unlike Tomac who fearlessly attacked every dirt section in the drops, Phelan was famously cautious and, if anything, became a cautionary example of why drop bars were a bad choice.
PRODUCTION VERSIONS


But everything spoken about so far speaks to a variety of bikes that used 26-inch wheels. Aside from the personal peccadillos of a handful of racers who opted for the mountain bike version of a fat-tire/drop-bar combo, in terms of fat-tired 700c production bikes, there is every reason to point the finger at Bianchi for being a pioneering adapter, since as early as 1986 their catalogs featured bikes rolling on 700c hoops with 38mm tires.
As Bianchi's pioneering product manager Sky Yaeger remembers, "In 1986 we had a Volpe model that touted both a road and mountain bike bloodline that was billed as a 'truly competitive machine.' These weren't cyclocross bikes, and by 1990 we had five versions of 700c bikes that ran oversized tires. We hated the name 'hybrid,' so we called them 'cross-terrain' bikes. In 1993 we introduced the Project 7 that was a drop-bar bike that used 45mm tires and a Rock Shox Mag 21 suspension fork."
As early a role as Yaeger played in creating a truly prescient version of the modern gravel bike, she also points to the efforts of frame builders Wes Williams and Bruce Gordon who were also early adapters of the primitive dual-purpose bike. In addition to his Rock 'n' Road frame, Gordon also became famous for developing his 43mm tire of the same name.
AND SO IT GOES

As we sit here today looking over the increasingly crowded landscape filled with an ever-increasing variety of gravel bikes, it's incumbent for us to take a moment and tip our hats to everyone and everything that came before and bore some resemblance in concept or reality to the bikes we enjoy today.