Defining The Modern Road Rider
Road riding has evolved rapidly since the introduction of the disc brakes. Disc brakes opened the design window to innovate in areas that were previously locked by the constraints of rim brakes. The innovation has in turn redefined how we ride and unlocked new levels of performance that enhance the ride experience.
Modern Road Riding by ENVE's Definition:
Fast, fun and versatile
Stability yields confidence, confidence yields speed
Purpose-built for how, where, and what you ride
SES AR is now just SES as 27mm to 35mm tire sizes are now the norm, not the exception, for performance
Hookless for tubeless precision and performance
Anti pinch-flat protection
Why Hookless?
Answer: Precise bead seat diameter and optimized tubeless design ENVE has led the charge with tubeless technology since the launch of the second generation of M Series mountain wheels back in 2014. In 2016, ENVE launched the SES 4.5 AR, a first-of-its-kind road wheel, with its mountain-inspired hookless Beas design.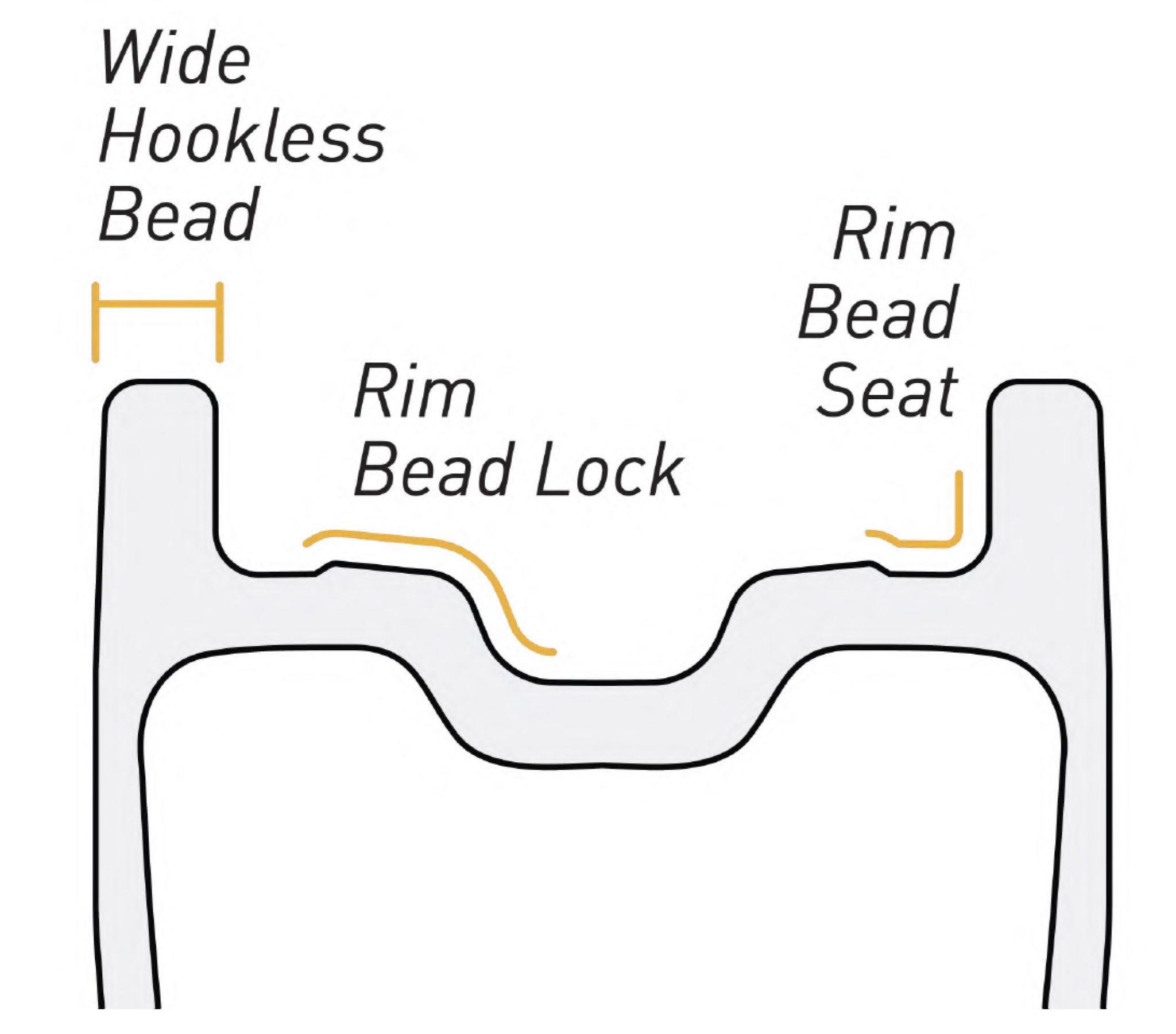 Today, tubeless represents the pinnacle of road wheel and tire performance and the hookless bead design plays a major role. All tubeless compatible ENVE rims, past and present, are in conformance with the latest ETRTO bead seat diameter standard for straight sidewalls (TSS) "hookless rims".
Tubeless 101
A hookless rim design allows for machined metal tooling to establish a precise and consistent bead seat diameter that meets the defined requirement by ETRTO.
When you hear a tire snap or pop onto the rim during initial inflation, that is the tire overcoming the rim's "bead lock" and establishing a soft press-fit seal in the rim's bead seat diameter. This precise fitment ultimately ensures air retention.
What was the matter with hooked beads in tubeless applications?
The hooked bead is not and has never been an intentional element of tubeless rim design. The hooked bead was created to ensure tire retention for the tube-type rim and tire system where lightweight folding tires often featured highly elastic beads that could stretch off the rim if not contained. The illusion of a hooked bead compromises tubeless performance as it makes achieving the critical dimension of the bead seat diameter less precise.
Hookless Tire Compatibility
As pioneers of the road tubeless and hookless revolution, Enve has been on the front lines of the rim and tire compatibility discussion since they introduced the SES 4.5 AR in 2016.
To address the question of hookless rim/tire compatibility, they have taken the following steps to ensure ENVE customers can confidently select a tire to pair with their hookless SES wheelset.
They developed their own tire. ENVE SES tires promise hookless compatibility as well as superior aero performance.
In 2016 they developed in-house testing to understand what makes a tubeless road tire safe for hookless use. Today this testing continues and is the foundation of the Tire Compatibility Chart found on ENVE.com.
They continue to work closely with tire manufacturers by sharing tire testing results and supplying them with ENVE rims for their own testing.
WIDE HOOKLESS BEAD ANTI PINCH-FLAT TECHNOLOGY
Most flat tires are caused by one of two things. Intrusion punctures (ex. staples, thorns, glass, etc…), or pinch-flats (ex. potholes, railroad tracks, cobblestones, etc…).
While there is little ENVE can do as a rim manufacturer to prevent punctures, the Wide Hookless Bead greatly reduces the likelihood of pinch-flatting.
All wheels in the new SES family feature the Wide Hookless Bead that has been scaled for the intended application of the wheel model with the SES 3.4 and SES 4.5 offering the widest structure.
Understanding What Matters
When it comes to road and gravel tubeless, there is a lot of conflicting information out there. There are TWO things you need to understand and abide by at all times when running tubeless.
Added tire volume means much lower pressure and
Tubeless REQUIRES a tubeless tire and rim.
Tire Volume
Tire volume is the most significant aspect to consider when setting up a tubeless system. This can be altered by the tire size you choose as well as the internal rim width. As either increases, your pressure should decrease significantly. *This also applies to systems that are not tubeless.* We are no longer using 14mm internal rim widths and 23mm tires. The modern tubeless rim is at a minimum of 19mm wide internal and the new tire standard is 27mm or 28mm. 25mm tires can still be used but for some riders, you may need to step up in size to keep the tire pressure below the maximum inflation ratings of your rim and tire.
Must Be Tubeless
Never under any circumstance attempt to set up or ride tubeless on equipment that is not designated to be tubeless. If you have a tubeless rim but your tire is not, use a tube or get a tubeless tire. Remember you can always run a tubeless tire and rim with a tube. The same volume and max pressure ratings still apply so don't overinflate. With that said, adding a tube does reduce the volume slightly so you may want to add 2-5 psi from what is recommended for a completely tubeless system.
Choose The Best System For You
If your recommended tire pressure is near the maximum pressure rating for the rim, we recommend moving up in tire volume. Remember, as tire size and therefore volume increase, you can decrease tire pressure. For example, 90psi in a 25mm tire will feel the same as roughly 70 psi in a 28mm tire. Let's say you're a large 240 to 250 lb. rider – rather than run a 28mm tire at 70-80 psi on your set of SES AR or the new 2022 SES 3.4/SES 4.5 wheels, you should consider running a 30-32mm tire. You'll be able to run a lower tire pressure and at the same time achieve a better ride experience as a result of the additional tire volume.
The ENVE Pressure Chart
Everything about the design and construction of ENVE wheelset exists to help you go faster with more confidence. However, no matter how good your wheelset is, or how talented you are as a rider, running the wrong tire pressure will make you slower and compromise your ride experience. With that in mind, take a look at the tire pressure charts linked below to ensure that you're in the right ballpark when it comes to the tire pressures you're running.
The listed tire pressures that Enve supplies are meant to serve as a starting point to dialing in your tire pressure. You may want a few psi more but from our experience, we normally go down a few. At the end of the day, run the tire pressure that you like the best, just mind the maximum inflation ratings of your rim and tire.
ENVE Pressure Charts
ENVE will update the chars as new wheels launch and more testing data comes in so always check back.
Other Tubeless Tire Pressure Recommendations
We also really like the SRAM/Zipp pressure calculator. If you use a Goodyear tire, they have a version of the same calculator with their specific tire models included. It is easy to use from a desktop computer or on your phone and is also updated regularly as new findings and data are collected.
The Silca version is also handy and adds weight distribution but relied on your measured tire width rather than the labeled tire size and rim width. For us, we use them all and start experimenting with each until we find the pressure that works best for us.
Silca Pro Tire Pressure Calculator
Goodyear Bicycle Tire Pressure Guide
Cadex also has an option, but in our opinion, it is too limited and really only applies to their specific products. We would probably skip this one unless it is updated or expanded.
Cadex Tire Pressure Calculator