It's been a decade since we first began riding, building, racing and testing gravel bikes. It's been fun and, at times, it's been painful. But, most important, it's always been a learning process. From the earliest bikes sporting those (then) massive 28mm tires to many modern dirt rigs that can run up to 50mm rubber, like the sport itself, gravel bike design and technology have exploded at a rapid pace.
And, without a doubt, it's been the level of trickle-over technology from gravel to road bikes that has been the most interesting to witness. Beyond tire clearance (and tubeless tires!), notions of compliance and new ideas on geometry have also begun to infuse themselves into the world of skinny tires. While we know there remains a solid contingent of road-only riders out there, our enthusiasm for gravel bikes was founded on the premise that, owing to their dual-purpose abilities, they simply allow for so much added adventure with drop bars.
Since the first time we participated in Dirty Kanza (now Unbound 200) back in 2013, seven different RBA editors have competed in the granddaddy of gravel events. We didn't always finish, but regardless, we always learned, and it's those "learnings" that have contributed to the base of gravel knowledge brought to every gravel bike we've tested. We're proud to say that few, if any other, publications have the gravel pedigree that we do. And, it's that pedigree that has helped inform this roundup of our favorite gravel bikes.
ZAP'S TEN BLOCK
PARLEE CHEBACCO LE

I've always had a soft spot in my heart for Bob Parlee. Not just because the East Coast legacy carbon frame builder is one of the nicest guys in the industry, but the level of thoughtfulness that he applies to all his bike projects is both noticeable and appreciated. 
The Chebacco LE was born in 2015, but first came to us back in 2018. Although not a gravel-specific bike, it shined with the one virtue of most gravel bikes  that I find most worthy—their dual-purpose capabilities. Sure, the 102.4cm wheelbase would be considered long for a fast-paced road bike, but coupling its more aggressive geometry with a 17.2-pound weight (fitted with deep DT Swiss wheels mounted with 40mm Vittoria Terreno Dry tires) provided a lively feeling—that got even livelier when we mounted some 30mm Mavic Ksyrium Allroad slicks.
Of course, beyond the dreamy ride quality  it was the addition of the custom paint that also set the Parlee apart. Parlee now offers two levels of the Chebacco, and the custom paint is still an option with higher-end LE XD model. 
TURNER CYCLOSYS
Sure, the wild paint (courtesy of Joe's Bicycle Paint) was hard for me to not fall for, but the aluminum Cyclosys ended up being the closest thing to a "personal" bike that I've ridden in years—and I've ridden it a lot. From Levi's GranFondo to numerous Montrose group road rides and various gravel and 'cross races, the 18.8-pound Turner was a do-all steed that grabbed attention wherever it rolled. And, the fact that it proved both so capable and low cost ($950) was just an added benefit in a sea of hyper-priced carbon options.
What also made the bike unique was the 1x electric drivetrain made up of a TRP remote button shifters (owing to the non-shift actuating TRP levers), Shimano XT (mountain bike) derailleur, and a 3D+ crank with a 40t elliptical chainring that was wrapped to an e*Thirteen 11-speed (9-42) cassette to maximize the gear range. 
In the years since the eye-popping 'cross bike arrived in 2017, David Turner has dropped the aluminum version and is now dedicated to selling gravel-specific titanium frames that sell for $2695 with a carbon fork.
TIM JOHNSON'S LOANER



It started back in 2015 when I was standing in the pits at the Cyclocross Nationals held in Austin, Texas, that I spied upon what I thought would be the perfect bike for my rookie effort at Dirty Kanza. The only problem was that it was a one-off bike built for Cannondale factory rider and six-time national cyclocross champ Tim Johnson, and like many "gravel bikes" at the time, this bike, too, was just a warmed-over cyclocross bikes. However, what caught my eye was the addition of a Lefty suspension fork that Tim was testing for its practicality on rough courses. It might've been overkill in a 'cross race, but without ever even seeing a flint rock up close, I figured a suspension fork could be ideal for the rough roads of Emporia.
Since Tim's race bike ran with tubular tires, I went shopping for wheels and Mavic supplied a custom built (per the Lefty fork) pair of tubeless aluminum CrossMax hoops. As I rolled to the start line under a steady drizzle, I was confident that the 20.2-pound bike with an 11-42t cassette would serve me well. Of course, that was until the overnight rains had left a five-mile section of the course unrideable! It was during a truly grueling hike-a-bike section as mud crawled everywhere into the rear triangle when I realized how stupid and unnecessary seatstay bridges (aka mud catchers) were for bikes with disc brakes.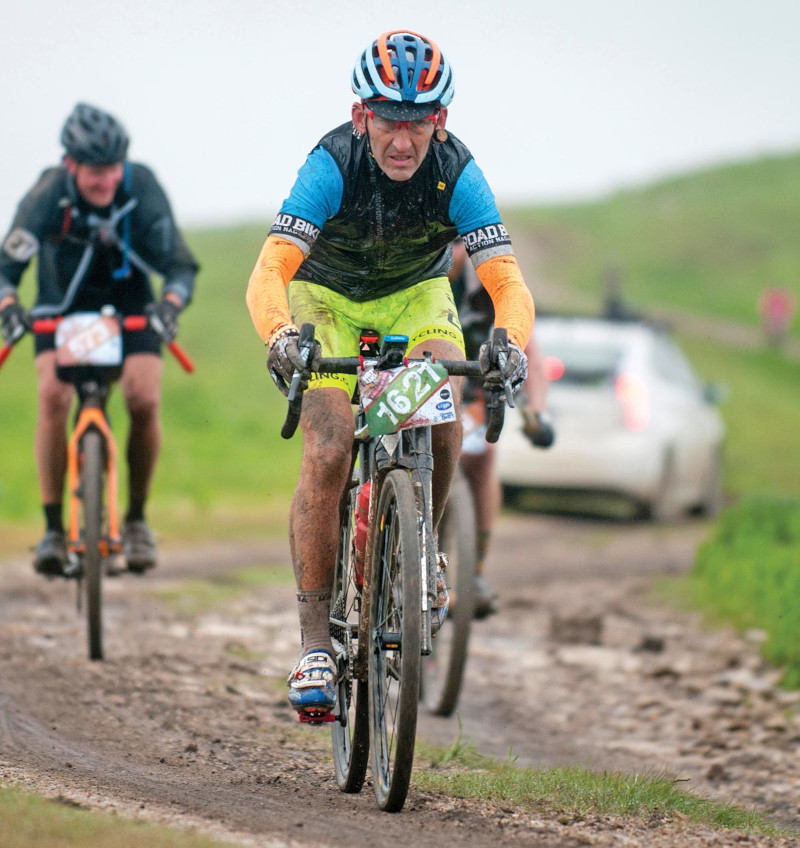 Although Tim had set the front fork up with a remote lock-out, I never used it and came away convinced that a fork with just 30mm of travel does not need the added complexity of such a frilly doodad. When I wasn't pushing or carrying the bike, the suspension proved a real boon for maintaining top speed through the ruts and rocks. Of course, little did I know at the time that this bike would later act as prototype for Cannondale's aluminum Slate gravel bike that also used a Lefty fork but with 650b wheels. We never liked that bike so much.
CANNONDALE TOPSTONE LEFTY 3
Funny thing how six years after my first gravel/suspension experience aboard Tim Johnson's race bike that I would find favor with a more modern version that came along to act like a Cannondale bookend. Like my 2015 ride, the Topstone also featured a Lefty suspension fork, only this wasn't just a leftover from the mountain bike parts bin but a gravel-specific version that shared the 30mm of travel with a lot less bulk. 
However, my "like" list of the full suspension Topstone was tempered by the silliness of the rear suspension that really wasn't. Still, the Topstone scored high for me because, in addition to the front suspension that made maintaining speed into bumpy turns so much easier and safer, the Cannondale simply fit me perfectly, and no number of fancy features will ever outshine the importance of a proper fit.
Although I'm less a fan of 650b wheels, the wheels here did allow for more dirt-friendly treads. Fitted with a Shimano GRX drivetrain, the 2020 Cannondale was a lot of bike for the $3750 asking price in terms of both features and, alas, the 23.31-pound weight. 
LAUF TRUE GRIT

An odd-looking bird if there ever was one, the Lauf was a revelation over the stutter bumps at speed thanks to its Jimmy Durante-like front end suspension that provided 30mm of travel. I'd first spied the fork when it's Iceland based innovators showed up in guerilla-like fashion at the 2016 Eurobike show with a pop-up booth and a crazy looking fork that would eventually lead to the complete bike.
When the True Grit arrived at RBA in 2018, my first ride take-away was that more rear flat tires would be the result of the increased speeds over the rough stuff that the fork allowed. Between the long 104.2cm wheelbase and suspension, the True Grit floated over the fast, rain rutted SoCal fireroads with ease. Simply put, it was a revelation. Most impressive was that even with the added weight of the Grit SL fork, the $5000 Lauf still weighed under 18-pounds.
From the single model four years ago, the Lauf True Grit is now available in five different price points ranging from $2890 to $6490. If you can stomach the aesthetic and snickers from your friends, the True Grit will help deliver just revenge when you blow by your friends over the stutter bumps. the ride will be a just reward. www.laufcycling.com
NINER MCR


If there was one bike that continued to fuel the "is it a mountain bike with drop bars or a road bike with fat tires?" debate, the Niner MCR would be it. And actually, while the bike's earliest prototype was just that – a Niner full-suspension mountain bike with drop bars – the MCR was a purpose-built gravel bike that featured 50mm of rear suspension. Is rear suspension necessary? For most riders, we'd say no because high volume, tubeless tires work well enough as passive suspension to get the job done without the added complexity and weight of a rear shock.
Still, the revolutionary full suspension Magic Carpet Ride makes the list just for the sheer vision and audacity of the effort to produce it. Unlike Niner's more traditional hardtail gravel bikes, the MCR was never a commercial or race winning hit. Our test bike weighed just over 25 pounds with a heavy, Fox AX fork handling front-end duties, but lighter, more modern suspension forks could make it lighter. Available in three sizes, the complete bike sells for $8100.
OPEN WI.DE.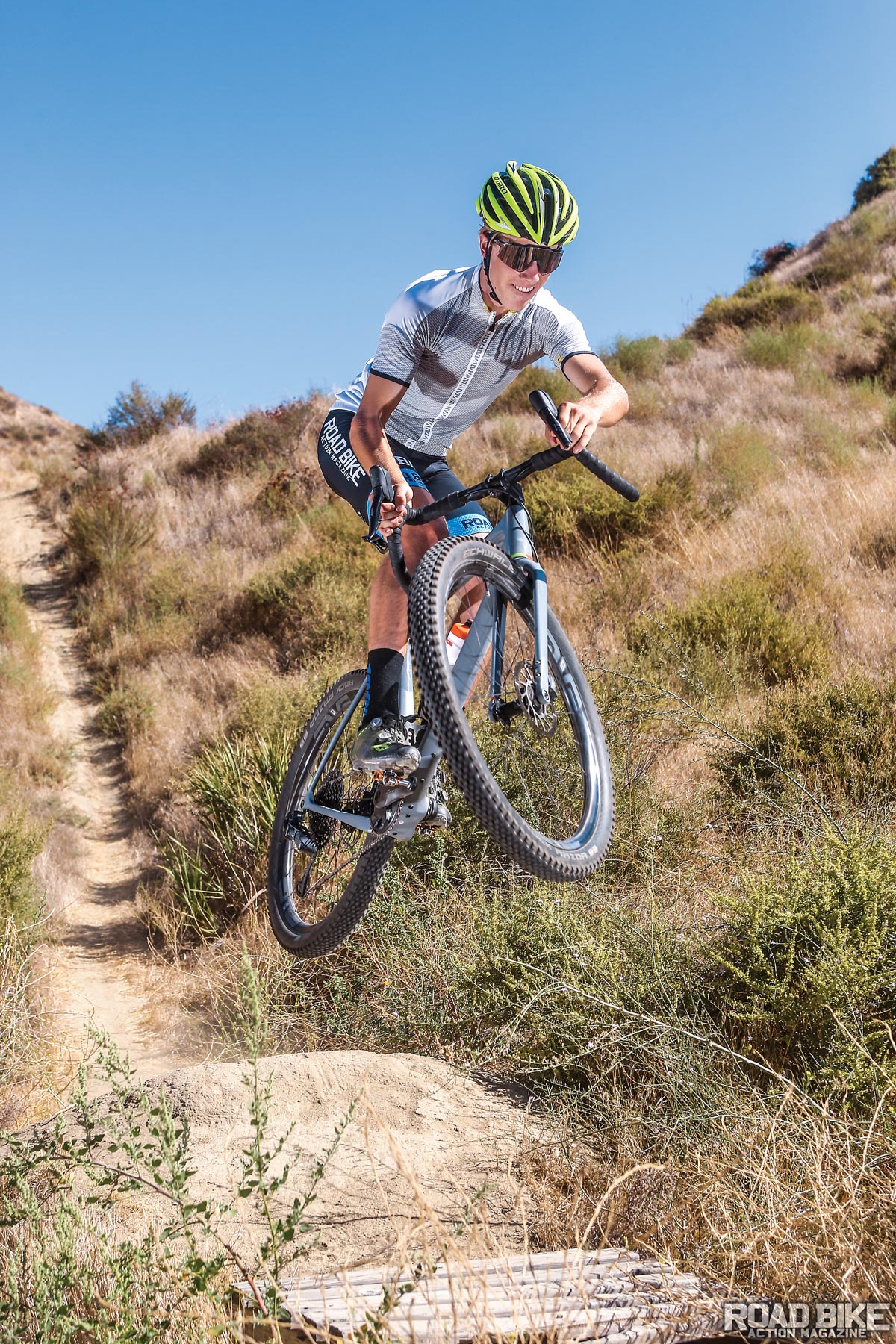 Open is, of course, the bike brand that forever altered the world of gravel bike design when it introduced the UP model in 2015 that featured the now much-copied dropped (drive side) chainstay design to allow for added tire/chainring clearance. The UP (Unbeaten Path) was a light, flickable bike with room for 42mm tires and a solid gravel entry. But, for designer Gerard Vroomen, clearly it wasn't enough.  
And so three years later, Vroomen upped the gravel ante by introducing the WI.DE. (Winding Detours), which was the equivalent of a monster-truck-like gravel bike! Best of all, despite its hulking appearance, it still hit the scales at just 18.24 pounds (less than the Pinarello Paris!). While there's been no shortage of bikes that've reached a level of parity with the original UP, even at this later date in the evolution of the breed, no other gravel bike has come close to being on par with the performance and true off-road capabilities of the Open WI.DE.   
As much as I enjoyed riding the "gray lady" on our local trails and even a few group road rides (yes, I got dropped), it was only after spending four days aboard it riding the White Rim trail in Moab, Utah (RBA, July 2020), that I fully realized and appreciated the bike's rugged durability and precise handling—and that was with 650b wheels mounted with 2.4-inch tires, which I'm not normally a fan of. 
JOHN TOMAC'S YETI C-26
No, this bike has nothing to do with "gravel," but owing to mistaken history, plenty of cycling fans still think it does. Why? It all started when mountain bike superstar John Tomac took a hiatus from his team 7-Eleven road duties in Europe to return to mountain bikes in the summer of 1990 and insisted that mounting some Cinelli handlebars on his Yeti C-26 would be the optimum way to maintain his road bike position. 
Tomac was not the first mountain biker to race with drop bars, but no rider of his caliber had ever committed to their use. The result was that it blew everyone's minds at the time and quickly became the most iconic XC mountain bike of the era. Despite it being fodder in the silly "is a gravel bike a road bike with fat tires or a mountain bike with drop bars?" debate (it was a mountain bike with drop bars), many still embrace the lore of it being the "first" gravel bike. It wasn't.
I rode the bike after Tomac raced it at the 1990 World Championships and was thrilled with the feeling of descending in the dirt with drop bars. Who knew that 30 years later, I'd be doing it again.
LOOK 765 GRAVEL RS
As safe as it is to say that the modern-day sport of gravel is an American invention, it would not be a stretch to add that other than Gerard Vroomen's early efforts, when it came to producing gravel-specific products, Europe's early efforts writ large were a bit off the back—and that's why we were so surprised that Look's first effort in 2019 was so successful. Really?! From a French bike company?! Yes. 
The 19.11-pound 765 RS utilized a proprietary 3D Double Wave carbon construction in the rear triangle to add compliance and a dropped chainstay for added tire clearance. While we hammered the olive green bike off-road, owing to its stiff frame and room for up to only 40mm tires, like the Parlee Chebacco, the Look was a capable gravel bike that shined brightest as an ideal dual-purpose  bike.
Look now offers the 765 RS in four models and five sizes starting at a value-oriented price of just $3000 spec'd with Shimano GRX components. 
CANYON GRIZL
By now, of course, the Canyon story is well-known; a German consumer-direct brand that produces bikes with a cost/benefit ratio that no other bike brand can match. The Grizl was their second gravel effort that was a much-improved version over the original Grail model owing mostly to its room for up to 45mm tires. In addition to the almost 22-pound weight, my biggest regret with the Canyon Grizl test bike we got last year was that we couldn't get the version with the bright Grape Explosion finish (yes, frame colors matter to me!).
Although we did quibble with the shorty 170mm cranks and 70mm stem on our small frame, for the $3200 asking price, the CF SL's abilities and spec were hard to match. And while I maintain that the fancy-pants-integrated Dual Plane stem/handlebar combo found on the higher-end Grail is stupid, I remain an unabashed fan of Canyon's signature VCLS suspension seatpost for the main reason that, unlike Dual Plane, it's unobtrusive and actually works as intended. 
For 2022 the bike is now available in 12 different models, ranging in price from $2999 to $5999, with spec choices including mechanical and electronic drivetrains and the RockShox suspension fork. For anyone who might doubt the lower-priced Grizl's capabilities, it has been the (winning) bike of choice for Peter Stetina since it was introduced last year. 
TROY'S FAB 5
LAUF TRUE GRIT
If you follow any of my adventures or posts that include local gravel rides, I always default to the Lauf True Grit. The Icelandic brand started with a unique suspension fork that has 30mm of travel without the hassle of oil, springs or air. Yes, suspension that remains light without the need for maintenance or adjustment. While the Grit fork can be fitted to most any bike, the True Grit was designed to perfectly pair with the fork. It has been my absolute do-all bike since it was released. 
Beyond the fork, there are a few key features that keep me on the bike time after time. After thousands of miles and abuse, the threaded bottom bracket has been trouble-free with zero issues. The large triangle might be difficult to stand over when the ground isn't level, but it leaves room for two large bottles and a bag. I also normally run a top tube bag, as well as a third
"dirty bottle" that is on the outside of the downtube. I also like the fact that I can run a 2x drivetrain (my current setup) or 1x depending on the event.
GT GRADE
For me, the GT Grade remains one of the most underrated—and definitely underrepresented—gravel bikes on the market. However, I put much of that on GT since most of their resources are committed to their mountain bikes. And, with Cannondale as a sister brand, it seems that much of the gravel push is allotted to that brand's gravel options, which I don't think are nearly as good.
The carbon Grade maintains GT's traditional triple-triangle frame design, but as the seatstays are unattached to the seat tube, they're able to aid in adding rear-end compliance. The seatstays are also made from a combination of glass fiber and carbon, which prove to be extremely flexible and offer amazing ride quality and performance. However, the bike does have a pressed-in BB30 bottom bracket that I am not stoked on.
The 104.3cm wheelbase is long and the handling is spot-on if you like highspeed descents. Our test bike had a flip chip in the fork to offer a tunable front end. There are three bottle-cage locations, mounts for bags and "stuff" if you're into that. Overall, it's a well-designed bike, especially when I paired it with the Lauf Grit fork to compete at the 2019 Dirty Kanza. The only unfortunate thing about that pairing was that I didn't have the legs to match the sweet ride!
CERVELO ASPERO
The Cervelo Aspero for me is a funny story because we have tested it twice with different outcomes. The first time the bike came to us in 2019 I absolutely hated it. Our test bike just wasn't built for the type of terrain in our area and the 1x setup with 36t chainring paired to a 10-33t cassette was terrible. Cervelo was promoting it as a pure race bike, and for me, it was built with too narrow of an audience and topography in mind, so I pretty much wrote it off.
Then, in 2021, Cervelo made some significant tweaks to the bike, and I simply fell in love with it. The gearing was much better, and the paint scheme was a thing of perfection. The new integrated cockpit looked amazing, even though working on it drives me absolutely mad! The bike has a flip-chip fork as well, and I found that it made a big difference in the handling. 
The bike is still very race-oriented, and I don't recommend it for those new to gravel. The handling is very quick, but for me, it was a lot of fun to ride. I have had more than a few rides that I got a bit out of control as I was simply riding too fast for the terrain. While there isn't much of a standout design in the way of compliance, I never felt beat up after a long adventure like I do on most race gravel bikes. Even with a BBRight bottom bracket and completely hidden hoses (neither of which I'm a fan of), I would still consider buying this bike. It just goes to show that gearing and components can really make a difference. 
Currently, Cervelo offers the Aspero in two options—the Aspero-5 with integrated and hidden cables, as well as the regular Aspero with hoses and cables exposed at the cockpit. The Aspero-5 is offered in three builds and starts at $7400 with the frameset at $4300. The regular Aspero is offered in five builds and starts at $3100 with the frameset at $2500. 
NINER MCR
I know this one might get a lot of the gravel purists upset, but the full-suspension Niner MCR (Magic Carpet Ride) is sweet. Sure, it's too heavy and built like a tank, but I still love it. When we first got a glimpse of the MCR at Sea Otter many years ago, I knew that it was the type of gravel bike that would scare a lot of people away, but when I first rode it a few months later, my mind was blown because it was nothing like I had imagined.
Riding the MCR is nothing like a full-suspension mountain bike, which is what I had originally imagined. Instead, it is like riding a touring motorcycle; it simply keeps you planted on the ground and smooth as silk. This is hard to imagine, because it is the only performance bicycle that I can think of that offers the same feel. Bumps, washboard, broken tarmac and really anything else you can ride over are muted. This lets you remain in the saddle pedaling with the tires completely planted.
Don't get me wrong, I ride mine on mountain bike trails all the time, but the suspension is not tuned for that sort of riding. The MCR may be built to mountain bike test standards, but it's best experienced on endless washboard back roads. There are plenty of routes that I would happily never ride twice because of the amount of washboard bumps, but with the MCR, a second pass would always be an option. No, the (25.56 pound) Niner might not be for everyone, but it remains on my shortlist of gravel bikes I would own.
CANYON GRIZL
Canyon has always been a disrupter and I love it. They have gone against the grain, but in a way that has always been for the right reasons. They have not been afraid to make a few enemies on their way to success. When the Grail gravel bike came out, I was definitely less than impressed due to the biplane bars that made no sense to me. However, when the more entry-level Grizl showed up, I was excited to swing a leg over it.
For me, the Grizl is a great balance of race handling but a perfect mix of monster gravel. With room for massive 50mm tires and room to spare for mud clearance, it is amazingly versatile. The frame has all the mounts you could ever need, and the bike's overall design is simple. Sure, there are a few funky things, like the oversized 1.25-inch steerer that can be troublesome to find a desired stem for, but there are options that will fit. 
Owing to Canyon's consumer-direct sales model that is altering the entire cycling market, the German brand offers a component selection and price point that the traditional brands just can't compete with. This all comes in a package that is user-friendly for DIYers and still delivers high-quality engineering and composite layups. Sure, your local bike shop might give you a dirty look, but simply ask them if they offer a bike with the same value? They don't, and they know it. Just don't be surprised if they don't offer you a break on labor, because I wouldn't if I was them.
DAVID'S DOWN & DIRTY
PURSUIT ALL ROAD
Few bikes have rolled into the office as unique as the Pursuit All Road. Hand-built just last year in Bozeman, Montana, by industry veteran Carl Strong, the All Road's ride quality was as striking as its paint job, and that's something I've found only a lifetime of frame building can provide. The feeling of speed while descending highlighted how much control the All Road provided. I could pedal through berms and lean further into turns than most other bikes. On climbs, the All Road is hard to match, as climbing benefits from the overall lightweight build. 
At 17.62 pounds, the All Road is competitively light for a gravel bike, and the Campagnolo Ekar build adds to its premium aesthetic. All of Pursuit's builds are made to order, and Pursuit individually chats with customers throughout the customization process to ensure the desired result.   
OPEN WI.DE.
Not many bikes are as capable as the Open WI.DE. It was my first choice when I competed in the Leadville 100 mountain bike race in 2019. Massive 650×2.35 tires and SRAM's Eagle 10-50t cassette were stock, and aside from the 42t chainring and drop bars, the WI.DE. had the look and feel of a mountain bike.
What really made it stand out, though, was how much it still felt like a road bike. Thanks to the double-dropped chainstay design, the short 100.9cm wheelbase was able to accommodate up to 700×46 or 650×2.4 tires. Its 71-degree head tube angle gave the Open the type of quick handling characteristics that I'm most drawn to.
GT GRADE CARBON PRO
No, the GT name is not one normally associated with anything featuring drop bars, but that's what makes the gravel space both so unpredictable and satisfying. The Grade Carbon Pro utilizes GT's iconic triple-triangle design in one of the best ways possible for gravel riding. Designed to improve compliance and, in turn, traction, the floating triple-triangle design gives the Grade a noticeably unique ride quality for a carbon frame. 
By mixing a steep 72.3-degree head tube angle and long 104.3cm wheelbase, the Grade's front-end input is quick and the bike remains planted as the rear end comes around, thanks to the ingenious seatstay design. Alongside the ride-quality effects, the floating seatstay design diverts vibrations to the top tube instead of sending them directly to the seatpost. The high vertical compliance is appreciated more and more the longer a ride gets.  
Today, the bike is available in three pedal versions ($2250–$4400) and two e-bike versions ($3350–$4200). 
SALSA WARBIRD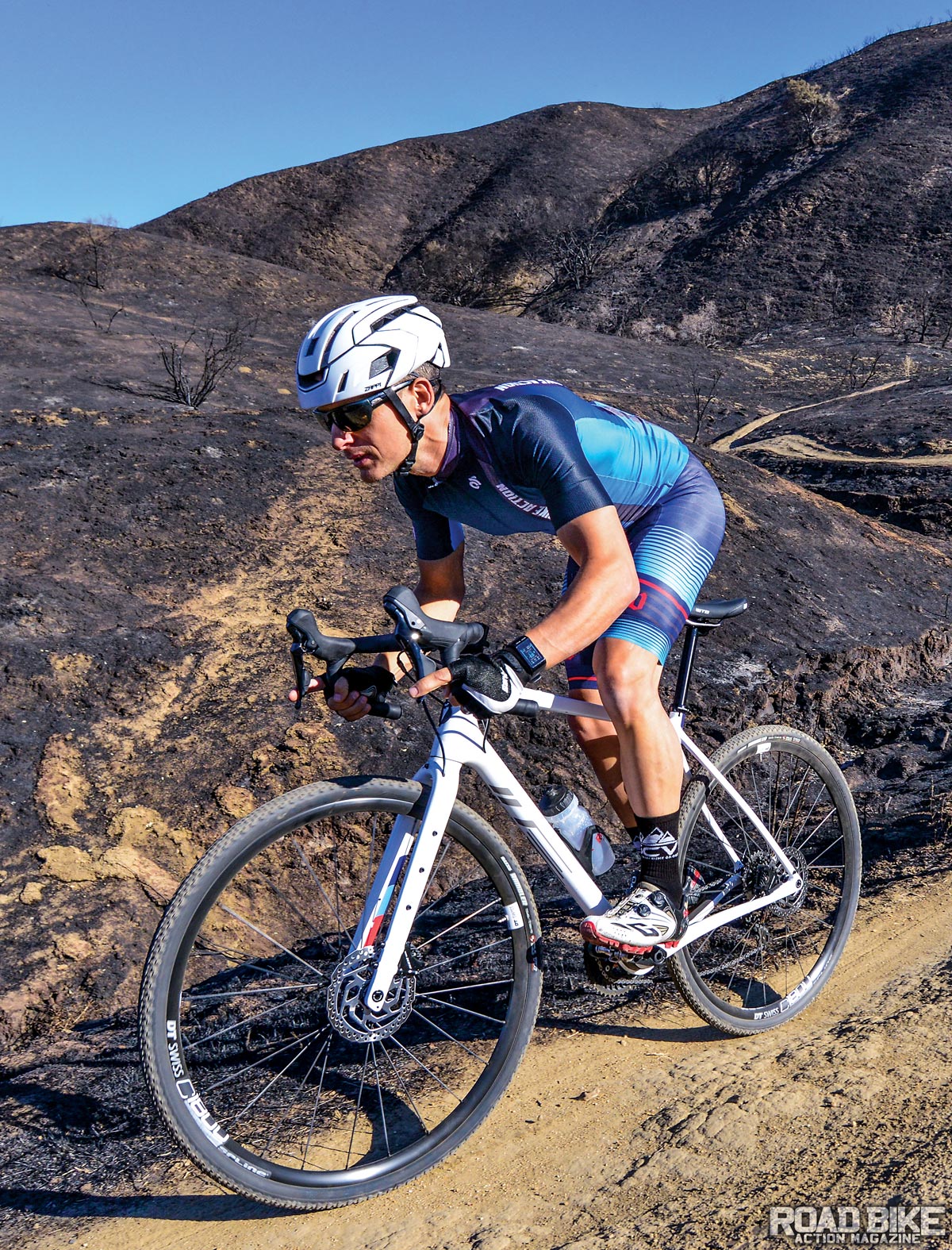 Salsa's Warbird was the first bike that made me fall in love with gravel riding. Since the Warbird launched in 2013, the design has been updated a few times, but most recently in 2019 with a slackened front end and improved tire clearance. A long wheelbase and 70.75-degree head tube angle give the Warbird an easy learning curve that makes it simple for a long-time roadie like me to learn the basics of gravel riding. 
Its $2299 carbon frameset provides a solid platform for gravel grinders with semi-integrated routing and clearance for up to 700x45mm or 650×2.0 tires. Four bottle mounts and a multitude of frame/fork bosses give the Warbird serious utility for adventure riding. 
LITESPEED WATIA
If I could only buy one gravel bike for the rest of time, it'd be the Watia from the titanium experts at Litespeed. The Tennessee-based brand has been the go-to for both of my 200-mile Unbound Gravel attempts with the Cherohala and Watia frames.
The Watia is their latest release, and blends the endurance characteristics of the Cherohala with the racier aspects of Litespeed's Ultimate Gravel frame. It results in a well-balanced gravel machine that highlights the characteristics of titanium tubing and is fit to outlast any of the components we put on it. While I couldn't get the job done last year at Unbound, the Watia wasn't to blame. In fact, back home the Watia had me looking forward to longer rides on groomed gravel.