SRAM has been on the leading edge of 1x drivetrains since the introduction of the original Force drivetrain in 2014. Now with the launch of the all-new, gravel-oriented XPLR component line, they continue to push 1x technology forward. 
However, in addition to SRAM's drivetrain legacy, as the parent company of Zipp, RockShox and Quarq, the Chicago-based brand has now grouped together a range of products from those brands to create a complete XPLR product family as a way to indicate that the products are targeting gravel. 
The new offerings are 1x-specific drivetrains from SRAM across all of their electronic AXS tiers—Red, Force and Rival. Rockshox has launched with two suspension forks, the Rudy Ultimate and the regular Rudy (OEM only). Rockshox also released a Reverb AXS wireless 27.2 dropper post. Last is that Zipp has brought their Moto wheel tech from mountain bikes to the gravel bike with the Zipp 101 XPLR. The XPLR branding has also been added to existing products like Zipp's G40 tire and Service Course flared handlebars.
THE TECH
XPLR Drivetrain
So, what's the big addition you might be thinking, didn't SRAM already launch their gravel-oriented drivetrain called Wide? They did indeed, but Wide is targeting cyclists (whether gravel or road) looking for a 2x drivetrain with simply more range. 
The new XPLR drivetrain expands on that concept but with a definite gravel lean by adding a 10-44-tooth cassette option. This is paired with the 1x-specific rear derailleurs that are only compatible with either the 10-44t or the 10-36t cassette, and that's it. It's not compatible with either the 10-50 or 10-52 Eagle cassettes, and likewise, the Eagle derailleur won't accommodate the 10-44t. Currently, SRAM offers two levels of the new 10-44t cassette, with one being slightly lighter at a $60 difference.
This makes things a little confusing since they are all based on SRAM's 12-speed AXS wireless standard that spans road to mountain. To add to the complexity is the fact that there are the three tiers—Red, Force and Rival—with the build materials being their biggest difference, which also affects the price. 
Along those same lines there are four crank options. Red and Force are offered in the regular road spindle width, while Force also has a wide option, and Rival is only offered in wide. The Wide option leaves more room for tires and moves the chain line out 2.5mm. This is not new, but it should be noted that Red doesn't offer a wide option for those looking for the pinnacle product. Chainrings are offered in 36, 38, 40 (like ours), 42, 44 and 46 teeth that use their X-Sync tooth profile to minimize chain drop.
RockShox
The biggest news is that Rockshox has jumped into the gravel suspension arena. Both the standard and Ultimate versions use 30mm stanchions with either a 30 or 40mm travel option. The Ultimate adds a lockout lever, while both have rebound adjustments. Both use flat-mount disc calipers and 12mm thru-axles as well. The biggest factor that will minimize compatibility is the need for a frame that fits a 1.5 inches tapered steer rather than the more common 1.25 inches.
While not to be confused with a suspension seatpost, the long-awaited 27.2mm Reverb wireless AXS dropper post with a 50 or 75mm option has arrived. It should be noted that this version of the post doesn't come with a remote controller like the larger-diameter mountain bike versions. This is because SRAM figures you will integrate it into the customizable AXS drop-bar controls. 
Zipp 101 XPLR
With the new wheels, Zipp has taken the single-wall rim construction design to the limit. Just as they did with the Moto mountain bike versions, the 101 XPLR rim is designed to pivot and twist. The theory is this sort of compliance further enhances traction and comfort. While a single-walled carbon rim seems light and simple, the 101 is anything but. The wheel is built to twist along the center ridge near the spokes. The design is intended to provide a considerable amount of overall flex for added compliance, but all of this is with a carbon construction, so it's very responsive in nature.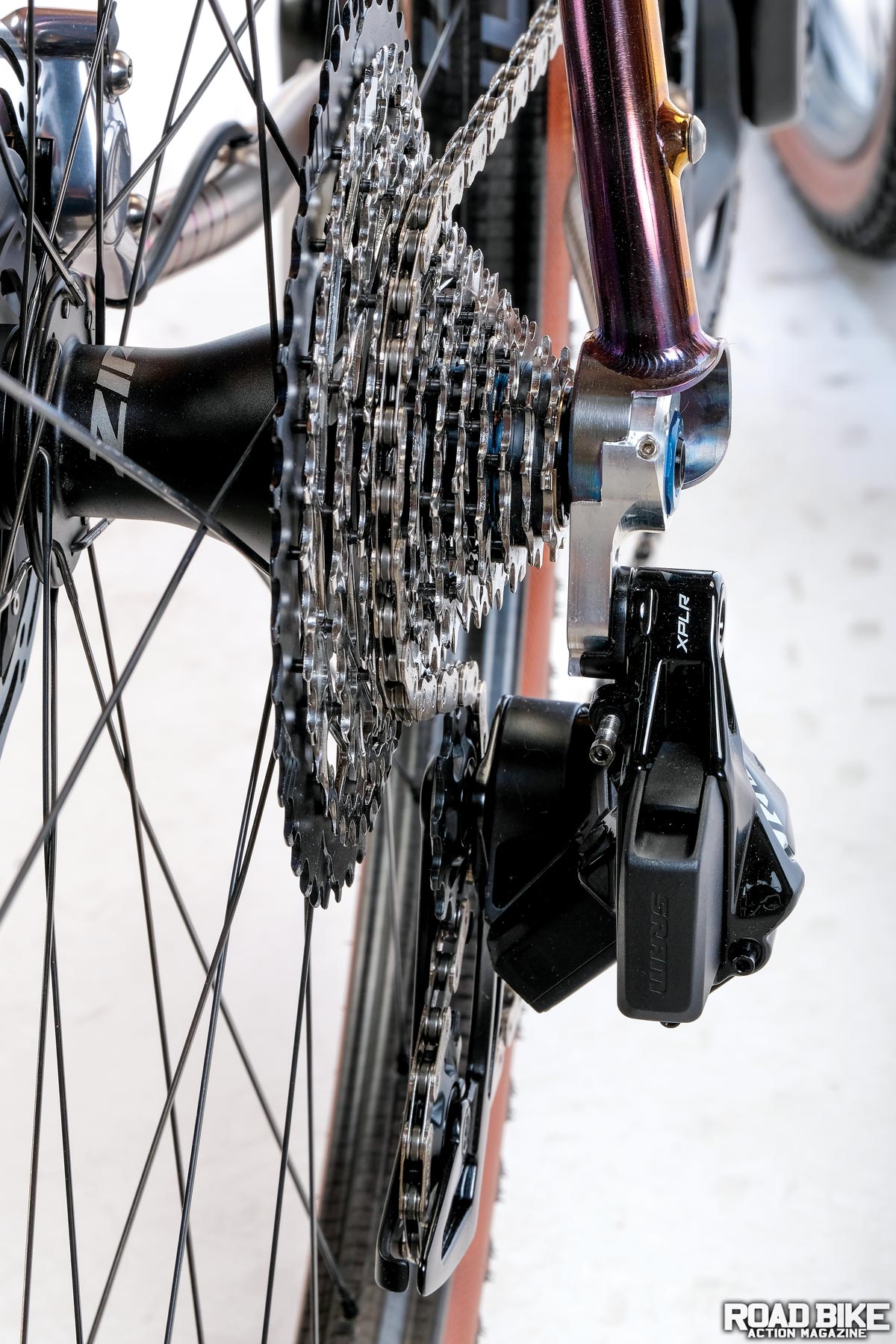 The rim profile is super wide with an internal width of 27mm and an external width of 36mm. We didn't get an official minimum tire size, but at 27mm wide, we'd likely venture no smaller than a 37mm tire. The wheels are tubeless and hookless, meaning tubeless tires only. Zipp has laced them with their ZR1 disc brake hubs that use a Center-Lock rotor. There are 28 spokes front and rear, but the wheels weigh in at 1687 grams.
THE RIDES
RockShox 
Not counting the original RockShox Rudy entry into the world of drop bars that occurred at Paris-Roubaix back in 1992, until now the concept of gravel-specific suspension has seen a mixed bag of entries with a mixed bag of opinions. When it does come to gravel-specific suspension, there have only been a handful of players—Lauf, Fox, Cannondale, SR SunTour—to consider. Now there is one more. 
The first question many ask is simply, "Why?" Knowing that gravel riding rarely shares the "send it" experience found with mountain bikes, for most people, the soft ride supplied by big, puffy tires has provided all the "suspension" needed to ride safe and offset the bumps.
After weeks of testing, the Rudy has been really solid during normal gravel riding with a very progressive feel. The top stroke is supple for bumps and road imperfections, but after only a few millimeters, it gets very supportive with a progressive stroke. Even during some of our more epic singletrack rides we rarely bottomed out. We have the entire XPLR line on the all-new Sage Storm King GP (see page 30), and the suspension-corrected geometry has worked well in almost all scenarios.
One big turn-off on the Rudy Ultimate has been the lockout lever located on the top cap of the right-side fork leg. The lever works as designed, locking and unlocking the fork's travel when needed (some riders would add "if needed"), but the physical lever is loose—annoyingly loose—and rattles over everything.  
The rattle has been like that since day one, so it was built into the system and not the result of a crash. On the other hand, the fork is so progressive, we likely won't use the lockout, and a bit of tape should remedy it temporarily. Also, when locked the blow-off is fairly high, which we like.
Reverb dropper
The staff here at RBA are split on dropper posts, but the wireless nature of the new Reverb gives it a boost since there is no added cable cluttering the cockpit. We have the 75mm version, and since we have the 1x XPLR drivetrain, we actuate both shift buttons simultaneously to control the travel, the same action you would use to shift the front derailleur on a 2x AXS bike. 
Like all droppers, there is a bit of side-to-side wiggle in the saddle, but we didn't notice it while riding. What we did notice is that it made for an awesome partner to the Rudy when dropping in on especially technical descents. We also used it at every stop as an alternative to sitting on our top tube. Best yet, there is an independent tilt-adjustment screw so it doesn't nosedive if things get too rowdy. It's not light, and if your bike relies on seatpost flex for comfort, you'll be disappointed because it's stiff. There is also no setback option so your frame will have to compensate for it like our Storm King GP, or you will need a saddle with a lot of rail adjustment.
Zipp 101 XPLR
As for the wheels, Zipp seems to have a great idea here, and we want them to be good, but honestly, the advantages are hard to validate. On top of that, the build of a 101 XPLR wheel is very complex, and speaking to a few wheel builders and SRAM themselves, they are also fairly difficult to build correctly. In our opinion, the wheels are a bit heavy at over 1650 grams, but they do have a super-wide internal width of 27mm and, of course, are hookless and tubeless.
The hub engagement is pretty good, but nothing too special with Zipp's regular pawl system. We would like to state that on our Sage Storm King GP we got enough flex out of the wheel for the 40mm tire to hit the chainstay. So yes, the wheels do flex a lot and, to be honest, it was when we were trying to make them flex. We also noticed that they were a little out of true after a few hard impacts, but corrected themselves with only a few rotations. 
Drivetrain: Last but not least is the drivetrain itself. To start with, it's SRAM's AXS, so the setup was simple and the shifts were quick and effortless. The new 10-44t cassette range is an improvement over the 10-36t option and, in our opinion, also better than the 10-50/10-52t Eagle alternative. The 10-36 wasn't enough range for our gravel exploits since we normally run a 40t or 42t chainring. The Eagle options almost have too much range, and the gear gaps are so big that each shift is a drastic change. This makes them less than ideal on tarmac, flat terrain and gradual climbs.
The 10-44t still has a few big gear jumps, but the range is a perfect match for us and our favored 40t chainring. The smaller and mid-sized cogs have smaller jumps, while the larger ones have bigger gaps for when things get steeper and there is less priority on cadence. The 10-44t cassette consists of 10, 11, 13, 15, 17, 19, 21, 24, 28, 32, 38 and 44t cogs. 
THE VERDICT
Despite SRAM making their drivetrain flow chart more convoluted, we really like the new range. The 44t cassette provides more than enough gear for steep climbing with less gear gap where it counts. 
Both the Rudy suspension fork and Reverb 27.2 dropper are novel and work extremely well, but they're definitely overkill for most recreational gravel riders. 
The Zipp 101 XPLR wheels have solid theory and engineering, but for us, we need more time on them before we can say they are worth adding them to our next build list. They aren't lightweight, but the wide internal width does help increase tire volume without adding more rubber. 
Overall, the XPLR line is good with a little bit of something for everyone, and the mix-and-match nature of AXS makes it easier to stay on budget. For sure the Red-level parts are a big budget-buster, which makes the Force and Rival options the likely the way to go for most. 
Our biggest disappointment is that there is very little cross-compatibility, and if you already have an Eagle 1x setup, you can't simply purchase a cassette to try the new range. While at least the shifters are universal, essentially you'll need almost a full investment of a derailleur, cassette and chain. Also, we hope RockShox sorts out their lockout lever so we can lose the duct tape Band-Aid, which we're currently using to damp the rattle, and actually be able to use it.
PUNCH LINES
• 1x-specific 
• A dropper post we are
down with
• Not sold on the wheels
PRICE LIST
Red XPLR rear derailleur: $710
Force XPLR rear derailleur: $350
Rival XPLR rear derailleur: $255
10-44t XG-1271 cassette: $210
10-44t XG-1251 cassette: $150
Red 1 crankset: $690
Force 1 crankset: $249
Rival 1 crankset: $130
Rudy Ultimate fork: $799
Reverb 27.2 AXS dropper: $600
101 XPLR wheels: $1800