In case you missed the memo, the drop-bar market has finally figured out that air pressure and air volume are more important than ever before. In the last few years, air pressure has been among the most consistent topics of debate, as well as a source of confusion. This is largely because for decades the bike industry has been under the old (and mistaken) idea that more air pressure used meant the faster you could pedal. Well, now that we have technologies to measure pretty much everything in life, the bike industry has discovered that adding tire volume while simultaneously reducing air-pressure levels can provide significant performance advantages with minimal increases in aerodynamic drag. In many cases, the combination has actually shown to improve aerodynamics and reduced the system drag. Who'd have thunk?!
Yes, bigger tires with more air volume at lower pressure not only yields more traction, safety and compliance, but a faster and more aerodynamic total system. This is important because that is how we ride, as a total system, not just a set of wheels with tires mounted to them. It doesn't matter how aero a wheel is if it doesn't complement the rest of the system.
As smug as we can be about acknowledging the modern lessons of tire pressure and technology, it's important to point out that the "old" belief that you needed 110 psi wasn't wrong. When you calculate the air volume and pressure needed to support a rider using a 23mm tire on a 14mm internal width rim, you will need around 105–110psi. What has changed is that we are adding volume through internal rim width and tire size. As the volume increases, the optimal pressure decreases. These findings—as well as the elimination of a rim's most historical restriction, the rim-brake track, and the evolution of wheel design, aerodynamics and performance—have put the rules of tire pressure on a rocket ship of evolutionary change.
Thanks to these changes, road tubeless has also become a realistic option since the need for using such high pressures is no longer necessary. This means not only has the external restriction been eliminated, but the internal shape of a modern disc-brake rim has also been optimized for tubeless. In short, the entire wheel market has evolved more in the last five years than it has since 1975 when French wheel pioneer Mavic launched their first hooked-bead rim.
SO, WHAT DOES IT ALL MEAN?


Now that we understand the changes, what are the important details that cyclists need to know when trying to determine their ideal pressure? Internal rim width is a key aspect to increased air volume, as well as optimizing the performance for larger road tires. Generally speaking, 25–32mm tires should pair with a rim that is at least 19mm wide internally. For the majority of riders, a 21–25mm internal width will be ideal and offer the most versatility. 
Tubeless compatibility is next, because some wheels use a hooked bead design, while many brands have transitioned to a hookless design. If you are running a tubeless tire, they will work with either rim designs. If you want to use a tube-type tire, you will need to get a wheel with a hooked bead. If you have a wheel with a hookless design, you must run a tubeless tire, even if you are using a tube in the system. For all tubeless systems, there is a maximum safe pressure of 75 psi.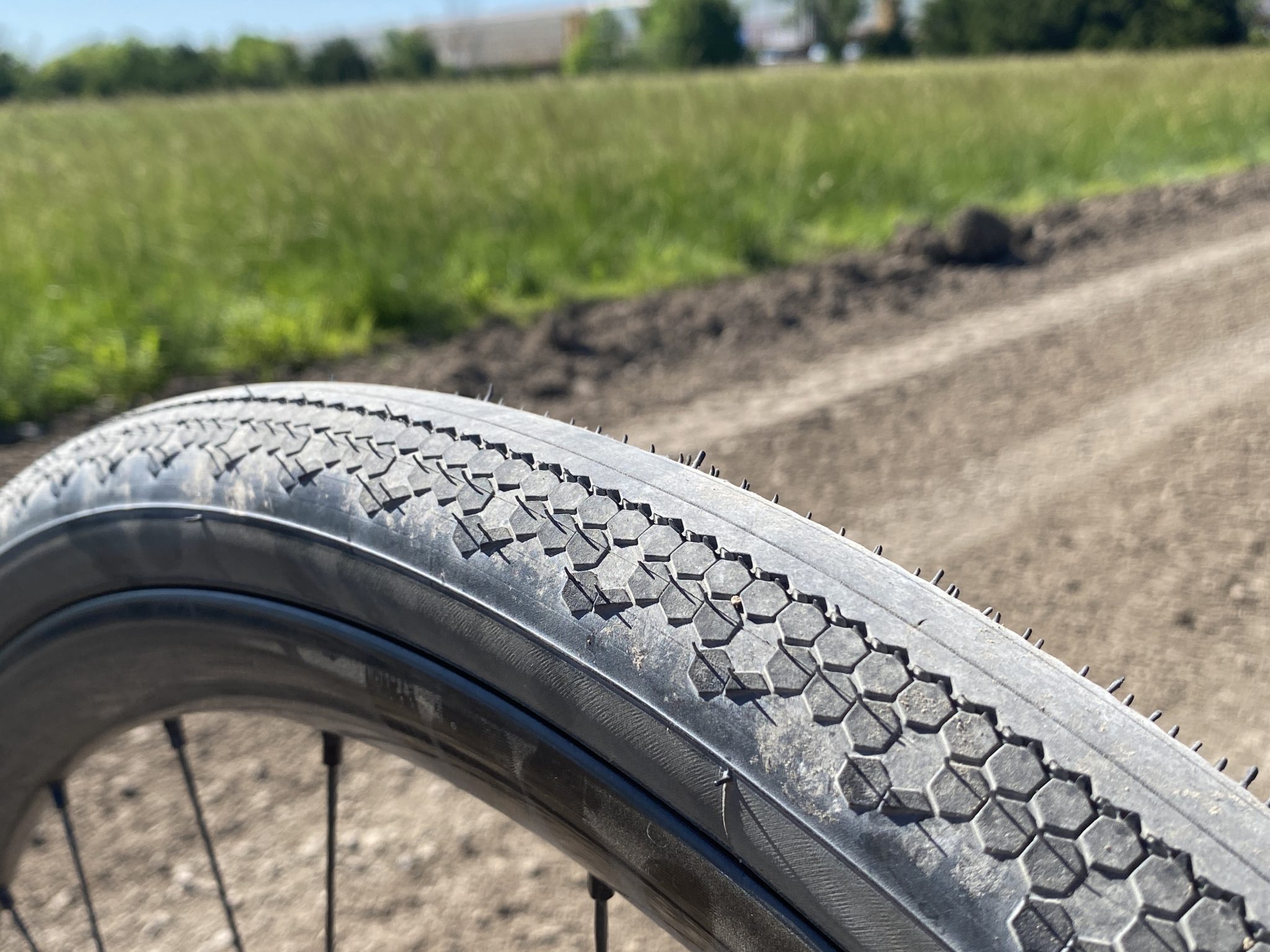 In reality, you should always choose a rim width and tire size that keeps you at least 5 psi below 75 psi or more. It should also be noted that all hookless wheel systems have this same limit, and even when running an inner tube, you should never exceed 75 psi since there is no mechanical advantage. It should also be noted that no matter if you have a tube or a tubeless system, if your air volume increases, your air pressure needs to drop. A 28mm tube-type tire mounted to a 21mm internal rim with a tube installed only needs about 1–2 psi more pressure than a tubeless 28mm tire on the same 21mm rim. The use of a tube and a hooked bead does not mean you should increase pressure more. With all of the changes and improvements in tire technology and wheel design, it's a good idea to have the proper tools to inflate and maintain modern wheel and tire systems. 
ALL ABOUT PUSHING AIR: The latest in tire pumps

Topeak JoeBlow Pro X
This floor pump has a wide steel base to provide stability when pumping, and the 3-inch top-mounted gauge is easy to read. The large, padded handle provides comfort, while the extra-long and tangle-free hose can even reach wheels on bikes mounted in a stand. The SmartHead DX3 with air-release button automatically adjusts to fit either Presta or Schrader valves and makes getting the right pressure a simple task.
Price: $150
www.topeak.com
Ultracycle Thrust EZEZ
There's a new way to spell "easy": EZEZ. New for Ultracycle's floor pump with the new EZEZ rotating head pump head. If you're tired of struggling to attach and detach your bicycle pump, the Ultracycle pump is for you. The unique head is compatible with Presta or Schrader valves and locks to the valve for a secure fit. The floor pump quickly inflates tires and boasts a large, easy-to-read gauge (with both psi and bar settings), plus a "stem keeper" that prevents a valve from depressing into a rim. Best of all, the EZEZ is easy on the budget.
Price: $45
www.ultracyclebikeparts.com
PRO Team Tubeless Floor Pump
Designed to make seating tubeless tires at home a cinch, the PRO Team Tubeless floor pump combines floor pump and compressor functionality. Boasting a two-in-one floor pump and compressor, it is perfect for not only inflating bicycle tires but also seating tubeless tires. The robust alloy construction and compressor canister allow you to pump air into the canister, which can then be released in a high-volume and high-pressure burst to seat tubeless tires. The Team Tubeless floor pump is capable of seating road and gravel bike tires, up to 2.3 inches wide, and features a head that has both Schrader and Presta valve compatibility.
Price: $180
www.pro-bikegear.com
STOMPUMP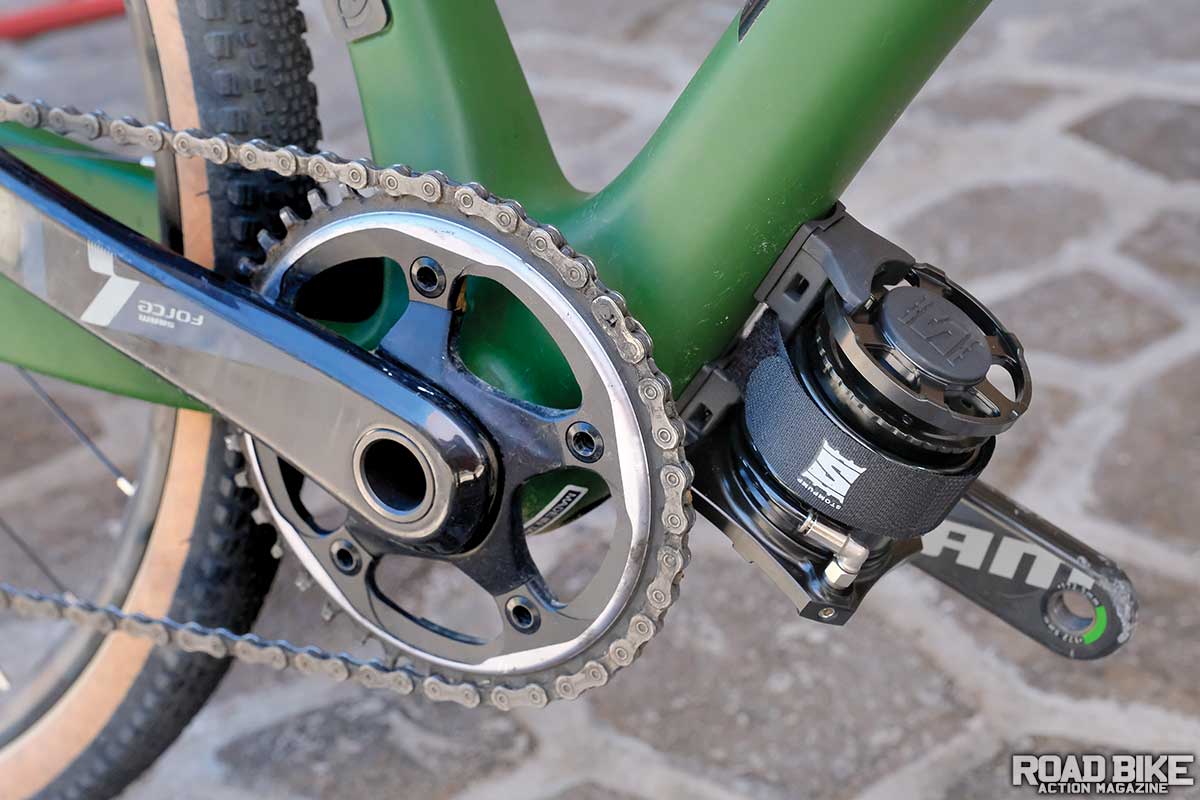 The Stompump is a fairly compact, high-volume foot pump. Instead of using your hands to inflate a tire on the side of the road, you can now use your leg and body weight to accelerate the process. The 25mm large-diameter piston moves about three times more air than a typical hand pump. The pump is made of machined aluminum, and the overall construction is very robust. The hose and fittings are very good quality and better than we see in most hand pumps. The hose can fit Schrader or Presta valves with a simple swap of the adapter end. It includes a frame mount, frame-protector pads and a hook-and-loop strap.
Price: $69.95
www.stompump.com
SILCA PISTA PLUS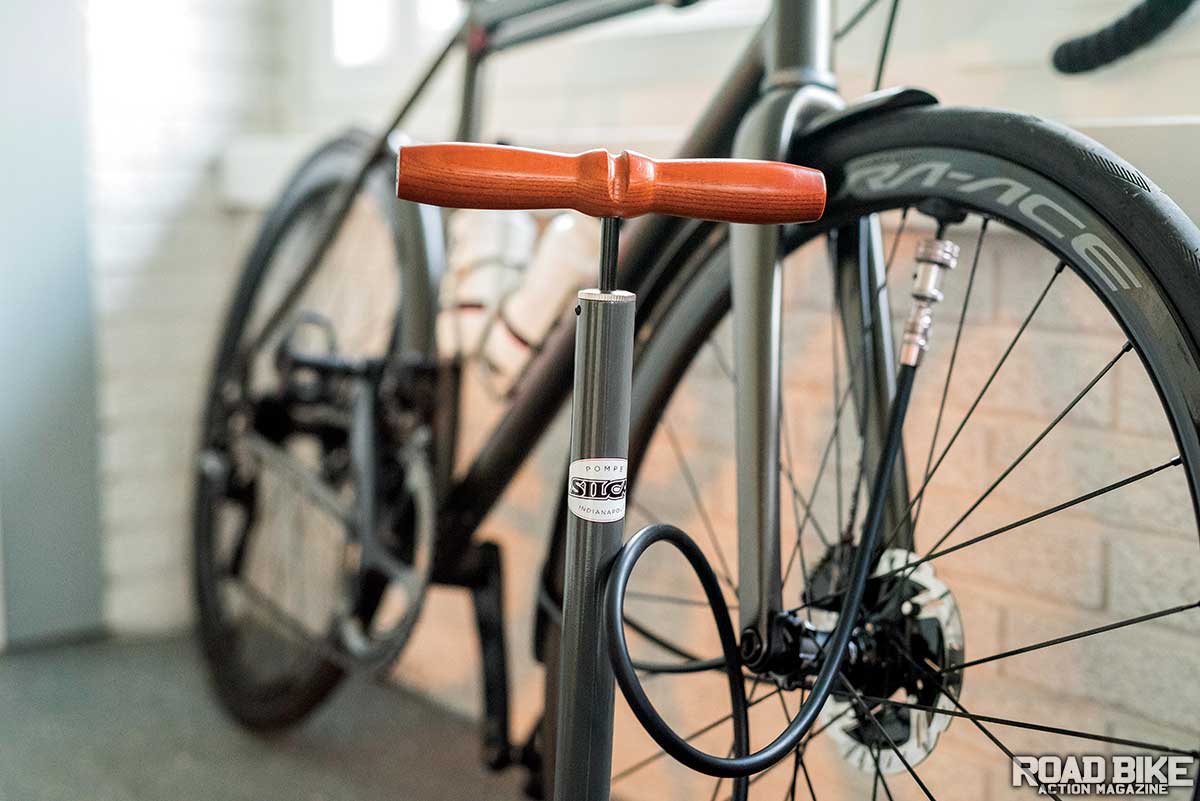 In the annals of bicycle tire inflation, there really is no more a legendary brand than Silca. Originally founded in 1917 by company founder Felice Sacchi, Silca pumps were recognized as the most durable and well-engineered floor pumps from both shop and pro team mechanics alike. Almost a century after the company started, Felice's grandson sold the business to one of our favorite American bike freaks, Josh Portman. In addition to expanding the line of inflation products (like the $250 Truth gauge), Josh has modernized the famous Pista pump while maintaining the design features that made it world famous.
Price: $159
www.silca.cc 
Quarq TyreWiz
If you're the type of cyclist craving to do your own data analysis while monitoring and tracking tire pressure, then the Quarq TyreWiz is for you! The high-priced valve cap lets you easily optimize tire pressure and track how the ambient temperature can alter pressure while you ride. In short, the TyreWiz can provide a F1 level of data acquisition, even if you're just out for a coffee cruise! Quarq's TyreWiz can singlehandedly improve so many aspects of your cycling, as it allows you to truly fine-tune tire pressure and dig deeper into what it is that you're feeling while riding. It is also a single source for your tire pressure, making the inaccuracy of different pump gauges irrelevant. 
Price: $214
www.sram.com 
DYNAPLUG AIR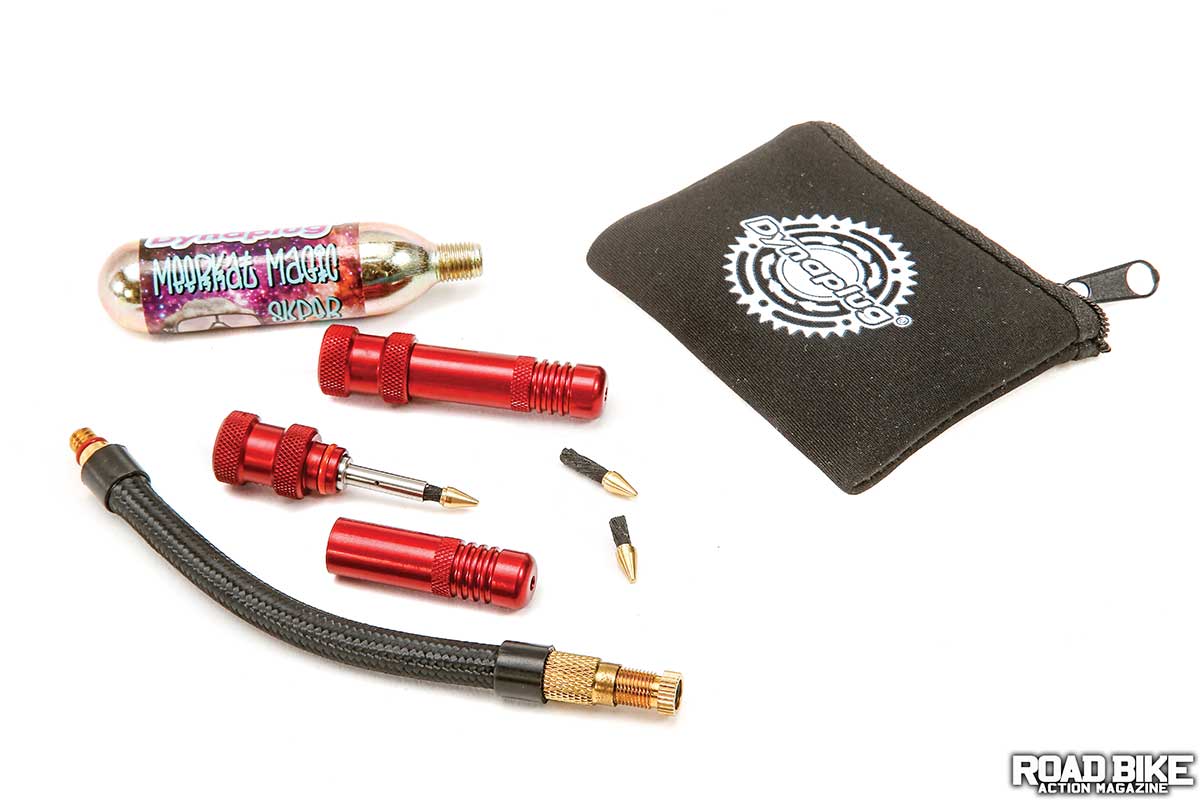 Dynaplug Air is the only tool of its kind and makes fast work of repairing a tubeless tire. Plug your tubeless tire and air it up with CO2 at the same time. Made in the USA and available in anodized color options, the Dynaplug Air Road tackles multiple jobs with one tool. The thread-on CO2 cartridges help refill precious volume to tires while simultaneously plugging punctures. With a thread-on hose included, the tool doubles as a CO2 inflator when that's all required of the job.
Price: $75
www.dynaplug.com
TOPEAK ROAD & GRAVEL 2STAGE
Topeak also makes two great portable hand pumps for roadside repairs. The Road 2Stage and Gravel 2Stage mini pump feature an innovative 2Stage pressure selector that lets you choose high volume or high pressure to quickly fill your bike tire effortlessly. The compact size means the pumps can easily fit into a jersey pocket or mount to the bike frame.
Price: $48
www.topeak.com
PRESTACYCLE ALLOY CO2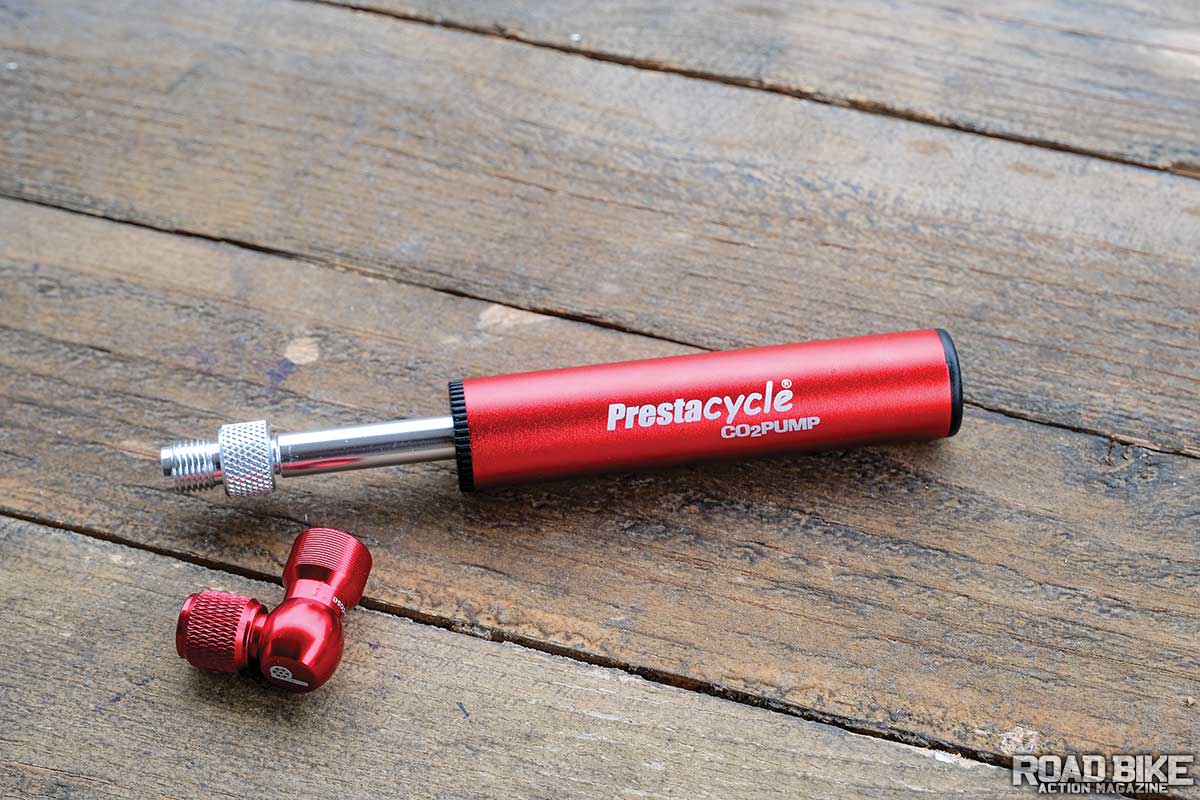 The Prestacycle alloy CO2 pump is one of the lightest and most compact hand pumps we have ever used. What makes it unique? It is a perfect companion for your favorite CO2 head. Simply attach the pump like a cartridge, open the valve and start pumping. Sure, CO2 is great for fast, high-pressure fill-ups; however, when the cartridge is empty, you're out of luck. You can carry as many cartridges as you think you might need, but this little pump is a better backup option. The CO2  pump takes up about the same amount of space as a cartridge but weighs only 35 grams. The design of this tiny pump enables you to reach 120 psi without straining.
Price: $25
www.prestacycle.com
VIAIR TLC LITE
The TLC Lite is a portable air compressor that provides a simple solution for on-the-go bike and vehicle tire inflation. The kit features a 30-foot coil hose and a shop-style inflator with rotating Presta and Schrader attachments. The compressor charges the coil hose to 105 psi, storing enough air to provide a blast for seating tubeless bicycle tires. It is capable of inflating vehicle tires up to 225/60R18. The TLC Lite comes in a rugged steel case with a durable handle and is powered by simply plugging into your vehicle's DC power port. ν 
Price: $160
www.viairbike.com
LOOKING FOR EXPERT ADVICE?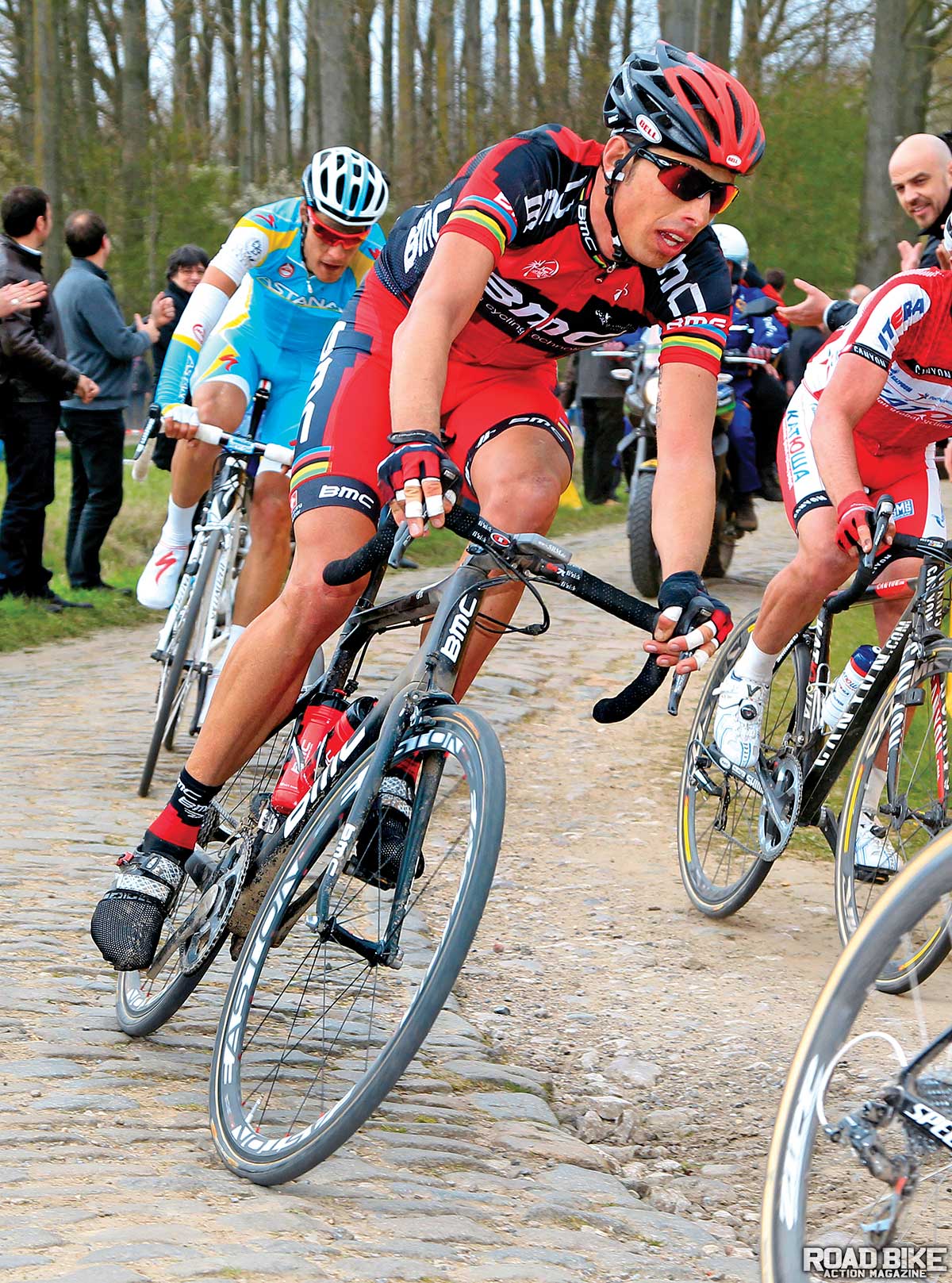 If we could point to one back-in-the-day legacy that continues to haunt the modern-day road bike experience, it would be the reluctance of some cyclists who are unable to break with their equally back-in-the-day notions of what makes for proper tire pressure. Yeah, yeah, we've heard all the stories about how Eddy Merckx rode with rock-hard tires, and even as late as a decade ago former pro riders like Ted King spoke of the Italian mechanics on the LiquiGas team who would never let them leave the team truck with anything less than 160 psi in their tires. But that
was then.
Today, thanks largely to the arrival of disc brakes and tubeless tires (and really, gravel bikes), thoughts on what the optimum tire pressures should be for riding on the road have changed just as dramatically as the psi numbers themselves have fallen. And yes, no matter how hard we try to convince some riders on the local group ride that they can press their finger firmly on their tire's Presta valve to let some air out for a smoother ride, they still have their doubts.
So, in an effort to spread as much useful tire-pressure knowledge as we can, here are three websites that we trust ourselves for knowing what they are talking about. Our advice would be for you to visit all three sites to get
the best understanding of what tire-pressure numbers would work best for you.
www.enve.com/learn/tire-pressure/
axs.sram.com/guides/tire/pressure
Race photo: Bettini/Sprint Cycling Agency