In a span of seven years Alchemy has become one of the most esteemed handmade builders in the country thanks to an extensive line that includes a broad range of U.S.-made titanium and carbon frames. After getting their start as a titanium frame builder while based in Texas, Alchemy expanded into the carbon market. And in keeping with their roots, they make all the carbon tubes right in their current Denver, Colorado, facility.
ALCHEMY EROS TITANIUM
THE BIKE
After testing Alchemy's Aithon carbon gravel bike less than a year ago, we went in a completely different direction this time around with the Eros titanium road bike. The frame is built with U.S.-sourced straight-wall titanium tubes that are oriented towards those that don't want to sacrifice stiffness in order to ride titanium. Free of any wild shapes, the traditional round-tube frame is in such stark contrast to what we're used to seeing that it completely stood out as uniquely different.
Alchemy offers the Eros in stock or custom geometries with just about any add-ons one could think of. Yes, disc brakes are one of those. Custom paint? No problem. Matt Maczuzak of Alchemy told us, "It's about 50/50 between customers going with a custom geometry frame versus those wanting a stock size. We have seen an upward shift in the number of customers going with a stock size." Our test bike was a 54cm with stock geometry, featuring relatively standard race-oriented geometry with parallel 73-degree head and seat tubes, along with a 97cm wheelbase that allowed 28mm tires to fit front and rear.
One question we had was how many customers who are ordering a frame in custom geometry actually know what they want—or need—for a proper-fitting and -handling bike. "Some people have a bike that they really like and they want us to match that geometry," Maczuzak said. "If they're unsure, they can go to one of our few dozen retailers, or go to a shop that does Retul fitting, and that will give us reliable numbers."
THE RIDE
The classic look of the Eros, along with its fabulous satin-red finish with polished logos, received much gawking when it showed us at the office. And from the very first ride on the Eros there was definitely something different about it. This is not like the titanium frames from the '90s that gained a reputation for being flexy under power. Back then, stiffness was often overlooked because of the weight savings titanium provided over steel and the smoother-riding characteristics over aluminum at the time.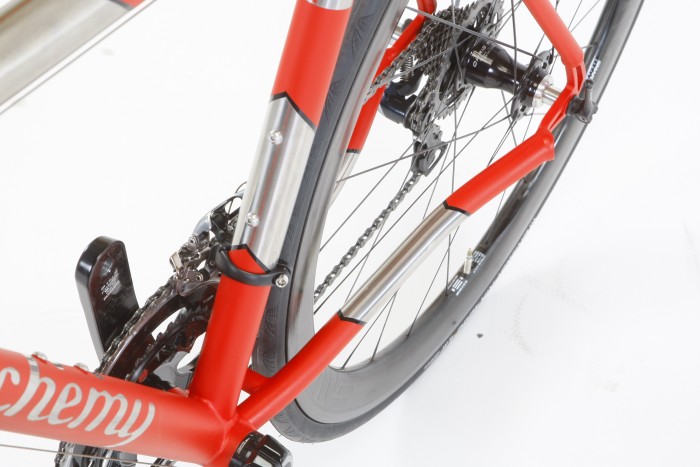 For the Eros, stiffness wasn't at all in short supply. The large-diameter, thick-walled tubes created ample get-up-and-go that left us quite surprised. With that said, it didn't deliver a silky-smooth ride over rough roads, either. By Alchemy's own assessment with what they call their Baseline DNA Chart, where they rate drivetrain stiffness, steering precision, and compliance between all eight of their frame models, the Eros ends up on the stiffer side of the equation than their other titanium offering, the Aiolos.
THE VERDICT
Alchemy's intent to create handmade bikes that aren't just pretty to look at but can also hold their own when it comes to performance was realized in our test of the carbon Aithon, and now we found the same once again in the Eros. It delivers traditional frame styling coupled with an impressive fabrication, and stiffness that will satisfy someone wanting the performance of carbon, just in a different package. While overall rigidity is at a higher level than other titanium frames we've ridden, that also comes with more road vibrations finding their way to the rider.
PUNCH LINES
• Classic look with modern-day performance
• Custom sizing, paint and options abound
• Not a silky-smooth-riding Ti bike
STATS
Price: $3750 (frame with Enve fork); custom is $500 more
Weight: 16 pounds
Sizes: 52, 54 (tested), 56, 58, 60cm and custom